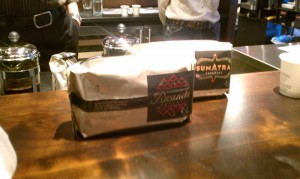 Today (4-25-2011) I went to a coffee tasting hosted by Jason Simpson and Leslie Wolford of the Starbucks headquarters coffee department, and Monica a partner at the Olive Way store.  The event was held at the newly-remodeled Olive Way Starbucks and showcased the two new Reserve coffees which arrive in stores on May 3, 2011:  Rwanda Gakenke and Sumatra Tapanuli.  It was great to try the new coffees.
All the coffees were prepared in French presses.  The tasting began with the Papua New Guinea Arokara coffee, which continues forward from last Reserve promotion period into the new promotion until supplies run out.  I am still a huge fan of the Papua New Guinea, and I recommend you try it if you get a chance.  The Reserve coffees are available online at Starbucksstore.com.  The Rwanda will be the new featured coffee for the Reserve offerings and will be available in about 800 Reserve Starbucks stores in the U.S. and in about 200 Clover Starbucks.  The Clover Starbucks stores will have both Reserve offerings – the new Sumatra and the Rwanda coffee.
Let's talk about the coffees:
Sumatra Tapanuli:
Starbucks has sourced the Sumatra Tapanuli coffee from the Tapanuli district in a north Sumatra province where the coffee is grown.  This coffee is grown in small farms of the Batak farmers, each producing only 7 to 8 burlap bags a year.  The Tapanuli district is a network of about 5,000 very small farms which is stretched around the southern tip of Lake Toba.  The volcanic ash from Lake Toba is responsible in part for the magic of this coffee.  Lake Toba is the largest volcanic lake in the world.  This coffee has the distinctive flavor profile of an Asia/Pacific coffee, and is a true small batch single origin offering.  This particular coffee is described as having notes of sweet fig and dark chocolate.
If you were to compare this coffee with the Starbucks core coffee, the Tapanuli might be described as "elegant" and it is roasted slightly lighter than the core Sumatra coffee.
I've tried this Sumatra and it is amazing.  It's complex with a lot of flavors, and a bold body.  I picked up some of the chocolate notes in it but still picked up some of the heavier more savory notes in it too.
Rwanda Gakenke:
This coffee is Fair Trade Certified and is described by Starbucks as follows:
The mountainous Gakenke District – where this coffee thrives in the rich soil – is typical of the terrain in Rwanda, "Land of a Thousand Hills."
Through the hard work of dedicated farmers, Rwanda recently went from having its specialty coffee supply eradicated to cultivating some of East Africa's finest. We love this one with its unique floral notes and layered flavors of chocolate, lemongrass and baking spices.
Leslie highlighted "lemongrass" as a key flavor note in the Rwanda coffee.  I learned a few interesting facts about this growing region too.  Rwanda has about 450,000 coffee farmers each producing coffee on very small farms of about one to two hectares of land.  A typical farm may only have about 200 to 300 trees.  About 6,000 Rwandan coffee farmers contributed to this limited Reserve offering.  Also, this is a "washed" coffee.
*******************
Just as a little background, Starbucks kicked off the Reserve lineup of coffees last August with the Galapagos Island coffee.  Right now the Reserve coffees are sold at all Clover Starbucks, and limited Reserve coffees are available at stores designated to sell the Reserve lineup but lacking a Clover brewer.  Off and on Starbucks has offered very small batch Sumatra coffees from the island's famed growing regions.  Some may remember that now and then Starbucks Siborong Siborong (from the Siborong Siborong growing region of Sumatra) has been offered as a Black Apron offering years ago, and then again about one year as a rare international offering only.  Each growing region on the island of Sumatra is known for a unique flavor profile.  Last summer, Starbucks offered a limited offering of Sumatra Lake Toba, also only available to a limited number of international markets.
I didn't take very many photos during this coffee tasting, but I hope you'll enjoy the few that I've uploaded here.
Enjoy your new coffees!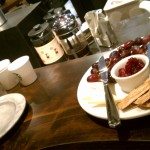 Related posts