This past Monday (June 3, 2013), I went to a coffee seminar at the East Olive Way Starbucks.  Coffee-Master-In-Training Josh and Certified-Coffee Master Donna walked us through several pairings.  Here's what we tasted:
First off, Olive Way had a great turn out for this event!  Many more than usual.  I had to wonder if the beer and wine helped with that.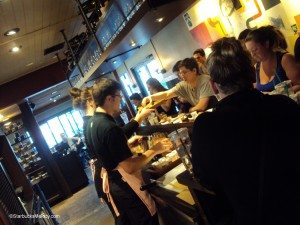 Verona with Chocolate Molten Lava Cake: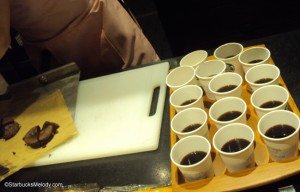 I enjoyed this pairing, but I pretty much always enjoy Verona coffee.  This small Chocolate Molten Cake is somehow very rich.  I never feel like I want more than just one bite.  Verona is very full-bodied, even when made on the Clover.  It lingers in the mouth, and the caramelization and sweetness to it become more pronounced with the very rich chocolate dessert.  Verona has a lot of lingering flavor, and I thought that the molten chocolate cake gave the coffee a certain smoothness to it.
Rogue Dead Guy Ale with Ham and Cheese Croissant:
I didn't really participate in this pairing other than eating some of the ham and cheese croissant, but there's no doubt, the Rogue Dead Guy Ale was a hit.  I'm not sure I can explain it, but the sight of a nice ale in Starbucks sample cups still strikes me as humorous: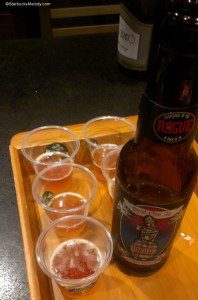 The ham and cheese croissant is delicious: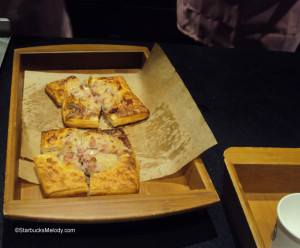 As I understand it, the Rogue Dead Guy Ale pairs with the buttery-ness of the cheese and highlights creamy flavors of the croissant.  I paired the ham and cheese croissant with the House Blend coffee, which I thought was a pretty good pairing.  The roast profile of the coffee brings out the smokiness of the ham.  By the way, I think it would be an excellent option to try pairing a very bold coffee, such as Yukon Blend, with the ham and cheese croissant.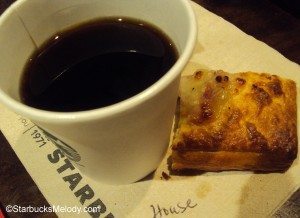 Wheat Spinach Croissant with House Blend or Ferrari-Carano Chardonnay:
I didn't really participate in this pairing, though, it was pretty clear that everyone around me loved it with the chardonnay.  As I understand it, the wheat spinach is prepared with a cream sauce that uses a touch of white wine in the recipe.  And the oakiness of the wine complements the earthiness of the wheat.  Next time you are at an Evenings Starbucks, try this pairing and tell me what you think!
By the way, the chardonnay was consumed from a special wine glass that is made just for Starbucks: Riedel Wine Glasses at Starbucks.  If you can walk out of an Evenings Starbucks with one of these wine glasses in your hands, that is a rare and collectible item!  I think they were for sale when they were newly-introduced to the stores, but I'm not sure that they're still sold at Starbucks.  The stores definitely still use them though.
Here's the rest of the photos from this coffee event at East Olive Way Starbucks.  You can see that a good time was had by all!
Thank you Josh and Donna for the fabulous event!
(You can read about other coffee seminars by clicking here – there have been many Olive Way events, and I've produced blog articles about many of them.  It's fun to go back and look at past coffee tastings.)
Related posts