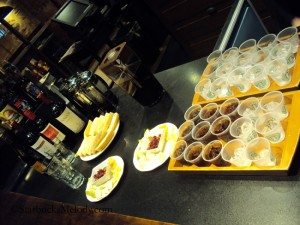 On June 4, 2012, I went to a wonderful coffee tasting featuring all iced coffees.  Jess, at the Olive Way Starbucks, was the seminar presenter and walked us through exploring seven different iced coffees!  Here is what we tried:
Terazza iced coffee – the "core" iced coffee offered at every single Starbucks
Iced Kenya prepared via the Clover brewer
Iced Kenya brewed through a standard filter brewer (Bunn brewed)
Iced Kenya, cold brewed
Iced Coffee blend – the core coffee available as a retail whole bean offering
Iced Coffee Blend on the Clover
Iced Via Ready Brew
First off, it had been a long time since I'd walked through a coffee tasting of iced coffees.  One of the things that struck me was that even an iced coffee can give off quite a bit of aroma, and I really was able to smell the difference in these coffees.
Terraza:
The Starbucks standard iced coffee is the coffee that is available at every single Starbucks.  If you ask for a "Tall Iced Coffee" the barista will be pouring a cup of Terraza Blend, which is not a retail blend, rather is just reserved for in-store iced coffees.  I thought the the Terraza had the least amount of aroma of all the seven coffees. I did pick up of hints of pear notes in the aroma.  The coffee was bright and had a strong taste in the mouth.  The flavor is great.  I do like this iced coffee.  It has a very clean finish too.  I could detect a little bit of the roast too.
Iced Kenya prepared via the Clover:
This was a wonderfully juicy coffee, with a big punch of flavor in the mouth.  Mickey (the partner famous as "Mr. Opportunity," and also famous for the Butter Coffee Tasting) noted some floral notes, and I could detect some of the citrus in the aroma.  Of course, I loved this one too.  I turned and snapped a photo of Mickey just as he was intensely working on smelling some the coffee!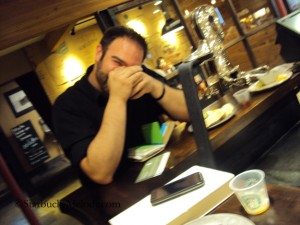 Iced Kenya – brewed with a filter brewer (Bunn brewed):
Iced Kenya prepared with a filter brewer resulted in a little more mellow coffee, in my opinion.  It had a round mouth feel, and clean finish.  This was a very nice iced coffee, though not my favorite of the group.  It was less flavorful than prepared via the Clover brewer.
Iced Kenya – brewed via cold brew:
This coffee was quite a surprise to me.  Cold brewing a coffee definitely creates a very different flavor profile than any other brew method.  There are a number of ways to cold brew coffee, but essentially it is coffee and water that sit for a minimum of three hours.  Some people cold brew coffee for seven or more hours, but about 3 to 7 hours is right.  Jess explained that she likes a very strong cold brew and so she uses about one cup of coffee grounds for an 8 cup coffee press.
This iced coffee had the biggest aroma of all the ones we tried.  There was a very large amount of grapefruit flavor, it was definitely the most flavorful of all of the iced coffees.  It was almost a bit syrupy or wine-like, and it paired well with the apples.
By the way, there were about seven people attending this coffee tasting, and we each had a plate of goodies to creatively pair with the coffees.  Here's my plate of food pairing items: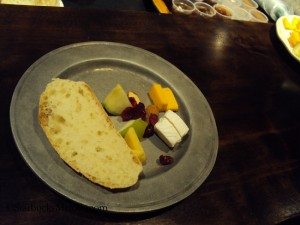 The "core" Starbucks Iced Coffee:
Next we tried the standard iced coffee that is available in the whole bean wall.  This is not Terraza Blend, rather it's just called "Iced Coffee."  Once upon a time, the core whole bean iced coffee was Gazebo Blend, but that was phased out in favor of this coffee. This was the nuttiest of all the coffees we tried.  If you are trying to steer away from the fruity notes in African coffees, this might be a good choice.  I noticed that it paired well with the almonds.  This was a filter-brewed iced coffee.  If you're looking for this coffee, you can see what the bag looks like here: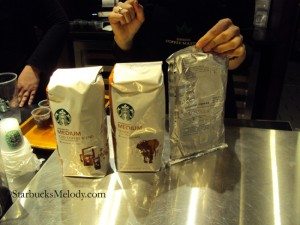 The "core" Starbucks Iced Coffee – brewed via the Clover:
Next we tried the same coffee again, only this time brewed via the Clover.  It is astonishingly true how brew method makes a huge difference in what flavors you'll notice.  This coffee had a lot of kick, and was very nutty.  I noticed the flavor seemed to hit on the sides of my tongue.  It paired pretty well with the bread.  Since I tend to lean toward the coffees with the fruit African flavors, this coffee didn't do much for me.  Just for fun, here's Jess pouring all iced coffee samples: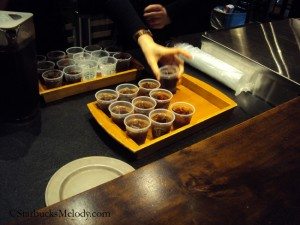 Iced Via Ready Brew:
Last but not least, we tasted Iced Via Ready Brew, which is lightly sweetened with sugar.  This is by far the easiest way to have a cup of iced coffee – just add water and stir.  I was surprised at how refreshing this was.  I think I prefer those coffees with distinct flavor notes, but this is fine on-the-go option.  Here is Jess showing off the package of iced Via.
Just so you know, if you're buying Iced Via, (now through July 9, 2012)  you earn double stars on your purchase.  There is more information here:
Bonus Stars for Purchasing Iced Via (6-4-12 through 7-9-12) – From the official Starbucks blogs
***
***
Hope you enjoyed this iced coffee tasting tour.  There are certainly a lot of options when it comes to iced coffees.  One of my favorites is Iced Willow from the Clover.  I had a lot of fun attending this seminar. Thank you Jess and Steph who both worked very hard to deliver this great seminar!
Coffee Master Jess is a kind-hearted, wonderful person in real life.  I remember one time going to Olive Way when I was really feeling sick.  It was a Sunday morning, and I dropped by this Starbucks, but my head was pounding, my throat was sore, and my nose was stuffy.  I was so sick.  I ordered hot tea (which I never do), and Jess was making my beverage, and said, 'Do you want me to add some honey to this?  You'll feel better.'  She was just so absolutely sweet.  She doctored up my hot tea, and I went home and crashed.  Jess is just a wonderful person.
Please feel free to weigh in below!
(Click here to read about more coffee tasting seminars.)
Edit on June 9, 2012 – From the comments below, looks like I got some of these coffees confused at times.  I could have sworn that the "Iced Coffee" whole bean was different than the first Iced Coffee we tasted, but it appears they are both Terraza Blend. So the first, fifth, and sixth coffees were all Terraza.
Related posts