Two new Starbucks Reserve coffees are here! They're available in Starbucks Reserve locations or at StarbucksStore.com.
The first is the Maui Mokka Reserve, which as the name implies, is a mokka varietal coffee, grown in Maui. The StarbucksStore.com website describes it as having flavors of candied fruit and chocolate. I went to a coffee seminar at the East Olive Way Starbucks (on June 16, 2014) and we paired it with the chocolate brownie. What an amazing coffee.
It's a dense, creamy coffee with just a ton of natural flavor. In the coffee tasting event, people around me stated that they picked up hints of pineapple and nutmeg in the coffee. One thing that makes this Maui Mokka so revered is that it has a one-of-a-kind processing method. (The processing method refers to the farmers process and treatment that involves removing the fleshy coffee cherry from the bean itself). This coffee is allowed to dry in the sun, on the tree itself. In a typical sun-dried coffee process (sometimes called "natural" processing) the coffee cherries are picked from the trees and then laid on tarps to dry.
This is a very limited supply coffee. I've heard that many stores are running out already, as demand is high and supply is low. It appears to be still available on StarbucksStore.com.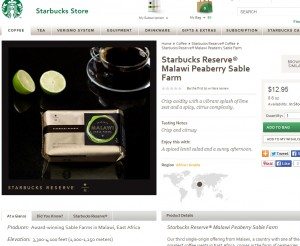 The second new Reserve is the Malawi Peaberry Sable Farm Reserve coffee.A peaberry is a coffee bean that doesn't develop into two halves. Normally, coffee beans grow in a form very similar to peanuts. When you look at a peanut, you can see the two halves that can easily be split apart. Each piece has a flattened side and a rounded side. Typically, when you're looking at coffee beans, you'll notice that each roasted bean has that shape – a flattened side and a rounded side. This is because the normal form of coffee is like a peanut. A peaberry is an anomaly. It's one rounded, single bean, and is NOT a coffee bean that spits into two pieces. Usually, peaberry coffee beans are a little smaller than typical coffee beans. I've heard it said that below 10% of all coffee grows in the peaberry form. These also tend to be high density beans, withstanding roasting temperatures well.
The Malawi Peaberry brewed coffee has a lot of lime notes to it! The aroma was sweet spice. Coffee Master Megan paired this coffee with key lime pie. The smoothness of the pie complemented the tangy-ness of the coffee. This coffee is a little juicy and tangy.
It was really an enjoyable pairing! I gained a whole new appreciation for a basic Safeway frozen key lime pie too. This coffee tasting made me want to pick one up and take it home.
I want to thank Starbucks partners Megan and Alex for doing a great job at this coffee seminar. You too can join in! They're free and offered every other Monday night at 6:00 PM at the East Olive Way Starbucks. You should call ahead to verify their schedule.
We really had such a great time. There was a girl sitting next to me who was also named Melody! I heard her say to Alex and Megan (in a very kidding voice – the two of them are already friends) "Hey pretend like you like each other!" and next thing I knew the two of them had burst out laughing. I snapped one very quick, in-the-moment photo and got this amazing picture. Even if I had written nothing else about this Starbucks event, I would have wanted you to seen this picture!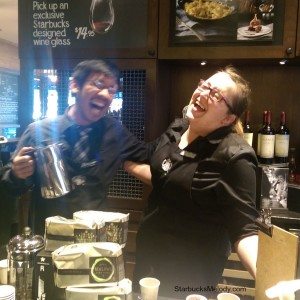 Now that's a great coffee seminar!
And here are just a couple more pics:
Enjoy!
Related posts