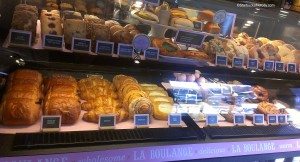 Today (June 4, 2013), Starbucks introduces La Boulange bakery items to participating Starbucks locations in Seattle (and greater Seattle locations).
I assume I have a few readers who discovered the new bakery items in the pastry case today.  What did you think?  La Boulange items already were in roughly 400 Starbucks stores in the Bay area/ greater San Francisco area of California.
I recommend going back and reading my previous La Boulange article – it has a lot of information in it:
La Boulange – Media preview event at the Starbucks headquarters.
I dropped by the East Olive Way Starbucks this morning, shortly before 8:00 a.m.  The store looked great.  Chris, a Starbucks partner, wore a pink apron and sampled all kinds of La Boulange items.  I tried the new Pumpkin Cheese Cream Loaf Cake, which apparently was a last minute addition to the lineup – I don't recall having tried it at the media event I attended.  Today, I tried the small carrot cake (not sure of its exact name) with vanilla frosting, which was delicious.  I thought that even the store's door cling looked great!
I am hoping that a few readers have tried the new La Boulange items!  What do you think?  Obviously, you can weigh in whether or not you've had the chance to taste the new bakery items!
Related posts