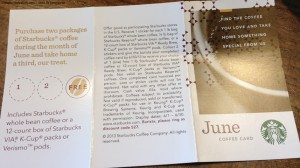 Starting this month, Starbucks will be running a "Coffee Card" promotion.  Buy two at-home coffee items, get the third one free.  This promotion is for all company-operated Starbucks, and as I understand it, there will be future coffee cards for subsequent months through sometime in the fall  (possibly November).  So for example, a customer could buy two boxes of Verismo pods, and get the third one free.  Each time you make a qualifying purchase, the friendly Starbucks barista will place a sticker on your coffee card.  The at-home coffees can be Via Ready Brew, K-Cups, Verismo Pods, 1-pound whole bean coffee, and Starbucks Reserve Coffees.  Purchasing a "scooped" half pound of coffee does not qualify.  You can mix and match.  A person could, hypothetically, purchase a pound of Veranda, a box of Verismo pods, and receive a pound of Pike Place Roast as the free coffee.  In addition, when you receive your free third coffee, it cannot be a Reserve offering or a "scooped" half pound of coffee.  You must both make your qualifying purchases, and pick up your coffee within the month of that coffee card.  For example, if you have a June "Coffee Card" you must both purchase your coffee, and select your free coffee all within the month of June.
Enjoy!  This looks like it will be a great promo!
Related posts
Socialize

Subscribe
Join the StarbucksMelody.com mailing list to receive a weekly email with new posts.