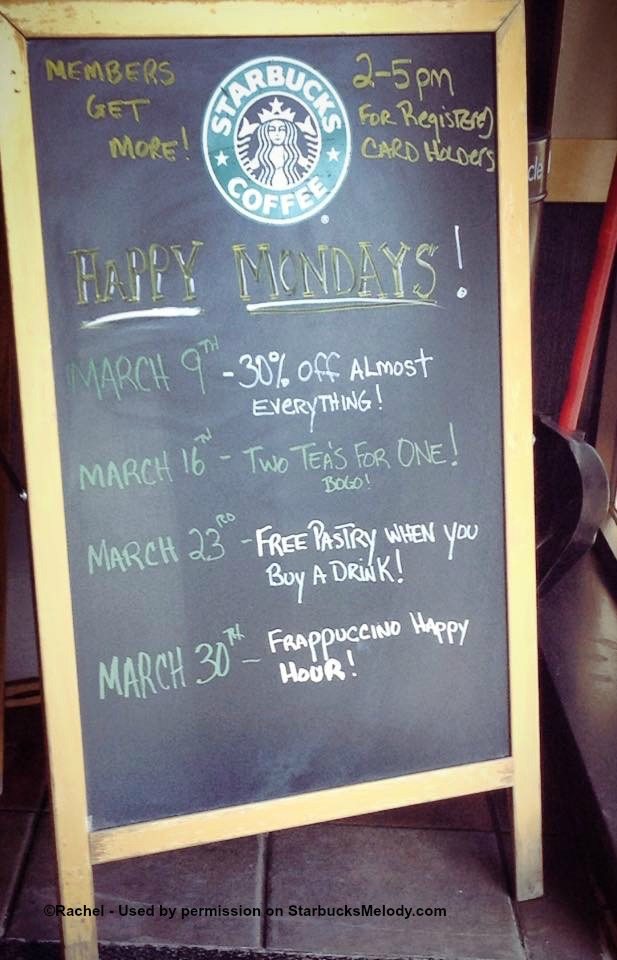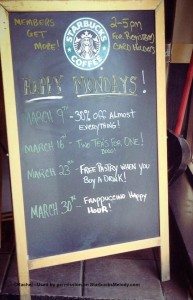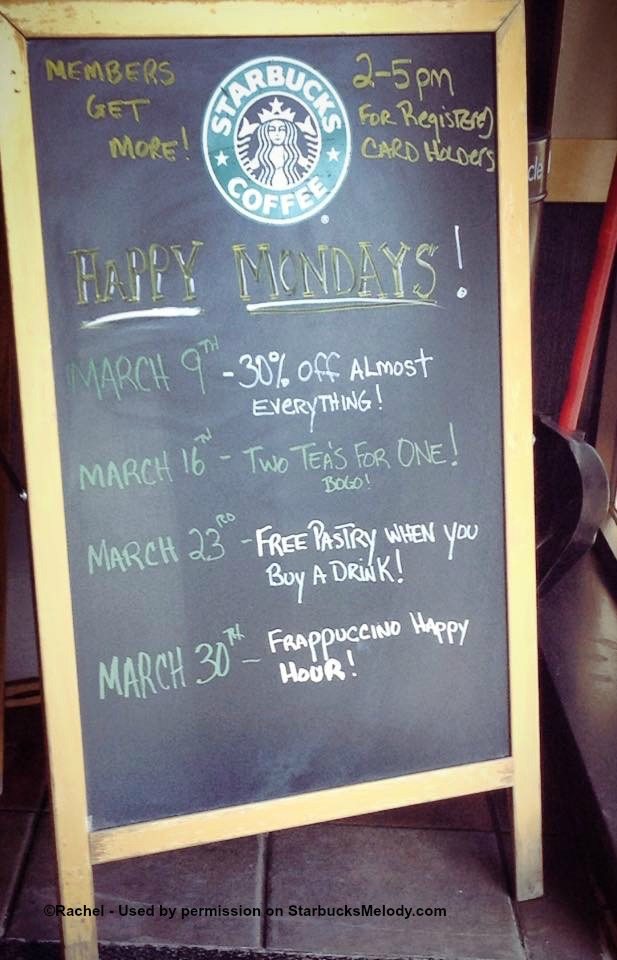 Coming soon, Starbucks will be doing a series of four special Monday promotions for My Starbucks Rewards members. More than nine million people are a part of My Starbucks Rewards and that number is climbing towards 10 million!
All of the promotions below are limited to between 2 PM and 5 PM:
Monday March 9, 2015: My Starbucks Rewards members enjoy 30 % off most all merchandise! This doesn't include newspapers, Starbucks Cards, beer and wine, or Starbucks Reserve coffees.
Monday March 16, 2015: My Starbucks Rewards  members: buy one tea and get one free! Come enjoy a hot tea, iced tea, or Oprah Chai with a friend! Tea drinkers, here's something just for you!
Monday March 23, 2015: My Starbucks Rewards members enjoy a free pastry when buying any handcrafted beverage. You have to be getting something that the barista prepares for you, and not a ready-to-drink item from the store's cold case. Breakfast sandwiches are not eligible to be a free pastry. Come get a cookie, lemon loaf, and much more with your drink!
March 30, 2015: My Starbucks Rewards members enjoy half off any size Frappuccino!
March is nearly here! Mark your calendars for these great promotions!
Thank you so much to the reader who tipped me off to this!
(Keep in mind that the overwhelming majority of MyStarbucksRewards promotions are customized to just the person who got a specific email – these is actually a little rare to have these huge promotions like this for ALL MyStarbucksRewards members, though they still do happen once in a blue moon.)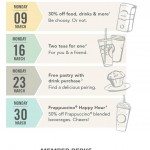 Related posts
Socialize

Subscribe
Join the StarbucksMelody.com mailing list to receive a weekly email with new posts.