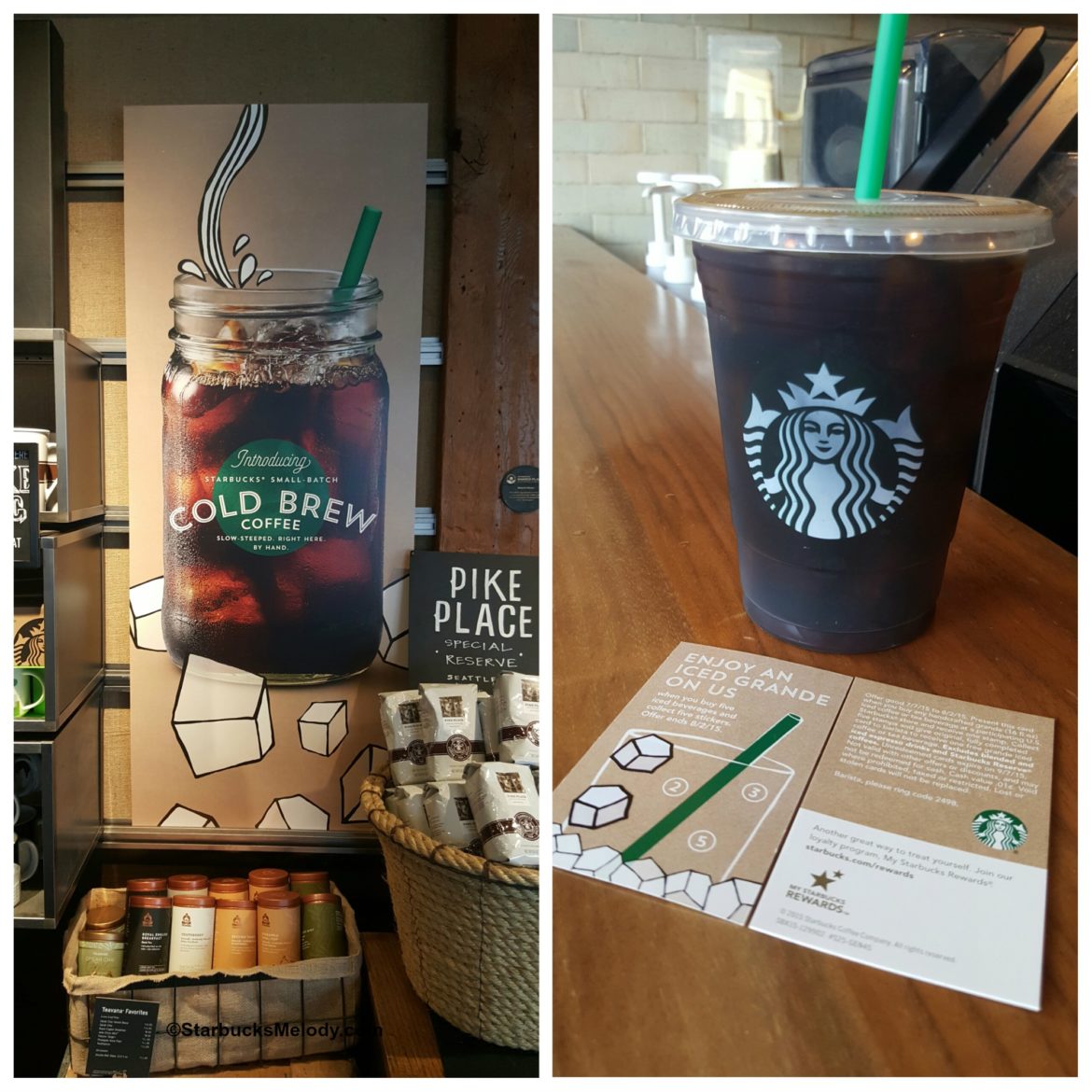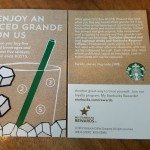 Starbucks is introducing its new Iced Cold Brew coffee nationwide with a summer promo to help you enjoy a little more of it! Buy five, and get one free!
There's a little more to this though! First off, as everyone knows, Iced Cold Brew is now available (as of 7-7-15) everywhere across the United States. Previously, it was a regional offering only in New England states.
Previously, I wrote about the Cold Brew when it was a regional item only. I strongly recommend this older article – I met with the coffee's recipe developer, Leslie, for that article:
Starbucks Elevates the Iced Coffee Experience.
Look for little cards inside Starbucks to collect stickers each time you buy any iced grande handcrafted beverage. The little cards are about the size of a business card, and the stickers are little look like ice cubes. If you like the Cold Brew coffee (or new Shaken Mango Black Tea Lemonade) this is the perfect way to get a better deal on them.
Whomever wrote the rules on the little card, was remarkably carefully to craft it in a way so that it's for iced coffees or iced teas, for redemption.
You get a sticker when you buy any Grande iced handcrafted beverage. If you're getting a Grande Coffee Frappuccino, you will get a sticker just the same as a simple Grande Shaken Iced Passion Tango Tea.
When you redeem the card, you cannot use it on a blended beverage or espresso beverage: So this card is for you if you love the traditional Iced Coffee, new Iced Cold Brew Coffee, or the Iced Teas and Iced Tea Lemonade drinks.
And speaking of cold brew, how are liking the new cold brew? 🙂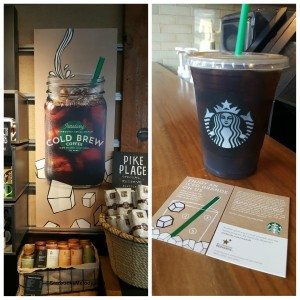 Important edit: July 10, 2015:
I checked with Media Relations at Starbucks as to what beverages earn you a sticker, and what the card may be redeemed for. Here's what official Starbucks spokesperson Maggie Jantzen said to me:
The cards "are specifically for any size summer iced beverage – so Iced Tea, Iced Coffee, Starbucks® Cold Brew, Starbucks Refreshers™ and where available, Fizzio™ beverages. Once full, the cards can be redeemed for a 16oz (grande) summer iced beverage."
So the key is "Summer iced beverages" – Iced Tea, Iced Coffee, Cold Brew, Refreshers, and Fizzio.
Related posts