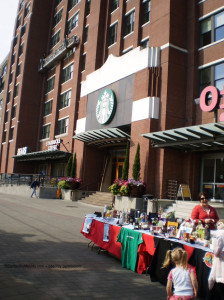 A few days ago, I received an email from a friend, inviting me to a 'Starbucks pet fair.'  To be honest, I brushed it off fairly quickly.  Certainly, I love going to everything Starbucks related, but I couldn't quite visualize what she was talking about.  On top of that, it was in the middle of the day, and I knew that I wouldn't be able to get away from work.  My friend is quite passionate about animal advocacy, and always has her ears to the ground for any kind of pet advocacy events.
This evening, I saw that I had an email with photos and details.  This was the seventh annual "Starbucks Pet Fair and Animal Appreciation Day," which includes participation from a number of local pet advocacy groups.  There was also a silent auction fundraiser sponsored by the Starbucks headquarters to raise money for the Sarvey Wildlife Care Center.
I had no idea that Starbucks did this.  I think this is kind of cool!
The silent auction included things like cold cups, t-shirts, mugs, Bearista Bears, tumblers, and a small French press.  Here's a Bearista Bear that my friend bid on (but did not win) –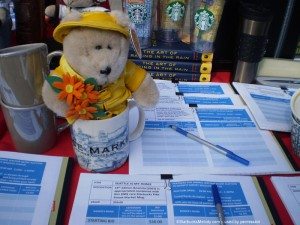 For those that do not know the Starbucks headquarters well, all the photos below are in the open space immediately in front of the main entrance to the Starbucks Support Center.  (The headquarters is called the "SSC.")
You can see the large banner for the Sarvey Wildlife Care Center in this photo here: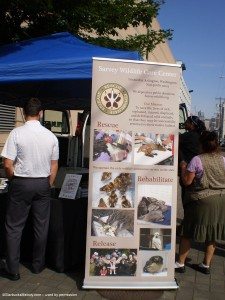 I definitely think this picture of the bees in interesting! Notice someone in the background calmly drinking coffee near numerous bees: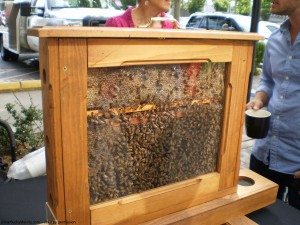 And finally, just a couple more photos from today's Starbucks Pet Fair and Animal Appreciation Day:
The Starbucks Support Center is located in Seattle, at 2401 Utah Avenue South.  If you do happen to visit the Starbucks Support Center for any reason, don't miss out on dropping by the Starbucks Coffee Gear store for the opportunity to buy unique Starbucks merchandise.  My friend mentioned that after she was done browsing the pet fair, she went to the Coffee Gear store and bought a Three Region Blend tote bag!
Related posts