It's time for a giveaway! The prize is a number of items that come from the Starbucks Coffee Gear Store. If you win, here's what you'll get! (Plus, you'll get a copy of Tales of the Siren: A StarbucksMelody too!)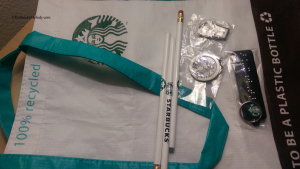 To enter this giveaway, please follow all of the instructions carefully! I will hand write out every entry, and pull a winner from a hat (or a Starbucks paper bag :))
Your comment below must be posted and appear below before September 26, 2014, at 6:00 PM PST.
You must be over eighteen.
You must have a valid mailing address in either Canada or the United States. (If you're in Canada, please be extra patient with the length of time for mailing items).
Please subscribe to this website. (Enter your email in the box in the left side column to enter; Or on the mobile version of this site, the subscribe box appears at the bottom of this site).
Please say whether you use a registered Starbucks card to make your purchases at Starbucks. (If so, you're part of MyStarbucksRewards).
If you could change just one thing, please say what it is you'd like to change about MyStarbucksRewards. That's the only topic we're discussing: MyStarbucksRewards.
Your comment below may not contain more than 25 words. That's 25 words total for everything.
Only one entry per person.
Please enter with a valid email address so it will be easier for me to reach you, if you're the winner.
Off topic comments will be deleted.
You must leave your comment as one of the first 200 comments. I'll close the giveaway at 200 comments, even if the deadline of September 26th has not yet arrived.
Winner will be drawn at random. Your odds of winning are one in 200, or better, depending on the number of entries.
There are no substitution prizes.
Over the years of doing giveaways, I always, always have people who don't follow the instructions. The common mistakes seem to be as follows – people who leave a Facebook comment in an attempt enter rather than a comment below; people who attempt to email me their entry; and people who don't follow all of the steps – such as missing a piece of information that I asked for.
Last but not least, this blog may be going through a site hosting change the evening and/or night of Saturday the 20th. It's actually possible that some data may be lost if you happen to comment during the hosting migration. I'm not responsible for lost comments that get eaten up by the internet. Saturday nights are typically this blog's slowest night, so I'm hoping that will be the least disruptive night for the hosting changes.
If your comment doesn't appear below it could be for anyone of the following reasons: (1) It's awaiting moderation. I really do try to get to every comment fast, but it's possible to hang up in moderation for a couple of hours, at most. (2) You didn't follow the instructions above or (3) it got lost in the migration transfer if you posted the evening or night of the 20th.
I don't mean for any of this to sound so blunt, but having done many giveaways on this site, I have kind of learned that I really have to spell things out. Have fun with your 25 words or less comments below!
Related posts