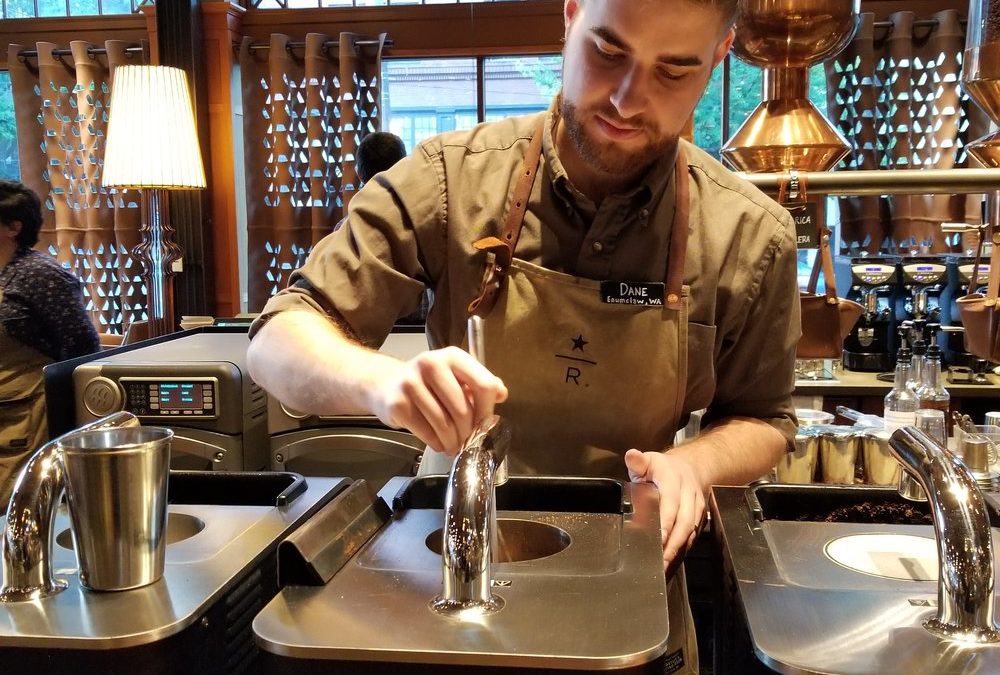 Saturday Morning at the Seattle Reserve Roastery (And Roastery FAQ)
Melody, October 8, 2017
5
5 min

read
As many readers know, I live in the same neighborhood as the Starbucks Roastery. I dropped by yesterday morning and took a number of photos with my phone (Samsung Galaxy 8). I thought you might enjoy a trip into the Seattle Starbucks Roastery too.
I get emails asking questions about the Roastery. There needs to be a FAQ page somewhere for the Roastery! Here are a few answers to frequently asked Roastery questions. By the way, if you send me an email asking me Roastery questions, please do not be offended if I email you back a link to this website rather than expecting me to re-write out answers.
How do I get a tour of the Roastery? There isn't any regularly scheduled tour of the Roastery. Anyone can enjoy the Roastery and walk through the space. Ask any partner wearing a leather Roastery apron questions about the sights! (If you run into Melody at the Roastery, I will give you a tour! LOL)
Can I rent the Roastery or a portion of it? Yes, it is possible to rent out a space in the Roastery for private events. You would want to send an email to RoasteryEvents@Starbucks.com for more information.
What is the big copper silo for? Behind the copper silo is a coffee holding area. Whole bean coffee is staged there, waiting to be served at the engine, or some of that coffee may be in the degassing stage. Coffee is like a green banana when it's fresh from the roaster. Not all of its flavors have developed. Wait about 8 days for the coffee to degas before drinking it. By the way, there is no industry consensus as to when a coffee is degassed. You might find some people say wait 4 or 5 days. Keep this in mind you're buying whole bean coffee from the scoop bar. Use your whole bean coffee within 15 days of the date it was roasted. You get the 15 days by adding 8 days for degassing and 7 days as the freshness standard. Always follow the 4 fundamentals of a great cup of coffee.
What happens at the green coffee loading pit? The green coffee loading pit is its own unique piece of coffee education. It's where coffee gets loaded to be piped to the roasters and it's another step in coffee quality assurance. Read about the green coffee loading pit here.
Are there Reserve coffees which are exclusive to the Roastery in Seattle? Yes. There is always at least one coffee which is exclusive to the Roastery. Right now it's Pantheon Blend. You'll want to ask the partners about which coffees are exclusive to their store.
Is there food at the Roastery? Yes. The food offerings are currently in transition, phasing out Tom Douglas food offerings. Soon Starbucks will be offering Princi foods at the Roastery and very select other locations in the U.S. (coming in 2018).
What is the parking situation at the Roastery? Parking is very tight. The Roastery is essentially on the edge of where the downtown Seattle, First Hill, and Capitol Hill neighborhoods meet – it's in an urban core. You cannot travel to an urban core of any major U.S. city and not discover that parking is a challenge. I'm always on foot because this is exactly the neighborhood that I live in. If you're taking a King County bus up the hill, heading east to the Roastery, look for bus routes 47 and 10 to get you close by the Roastery. The numbers 10 and 47 stop almost directly across the street from the Roastery, along Pike Street. The closest bus tunnel stop is Convention Place. The closest Link Light Rail stop is Westlake center. From Westlake, walk straight up the hill (up Pine Street, heading east) to the intersection of Pine and Minor. Walk up Minor (heading south) one block and you'll see the front of the Roastery and Minor and Pike. There is a parking garage nearby along Minor Avenue. You'll pay a premium to park in it, and it's not always open. There is street parking in the neighborhood – you'll need to pay the City of Seattle, and it's hard to find a spot.
Are their alcoholic beverages inside the Seattle Roastery? No. At this time there are no alcoholic drinks offered inside the Roastery.
How can I keep track of all the Reserve coffees that Starbucks offers? I don't promise this to be perfect, but as new coffees arrive inside the Roastery or Reserve Bar locations, I track them on DiscoverStarbucksReserve.com – you can subscribe by adding your email address. All of my websites are set up to send you one email on Tuesday mornings with all the latest articles.
Can I buy a Frappuccino at the Roastery? No. The menu doesn't include core beverages. There are no Frappuccino, no Pumpkin Spice Lattes and other favorite core drinks.
Will Starbucks be building more Roasteries? Yes. In 2018, there will be a New York City Starbucks Roastery. Soon, there will be a Shanghai Starbucks Roastery. Also scheduled for 2018, Milan, Italy will have a Roastery. Stay tuned!
Can I use my Starbucks card at the Roastery? Yes! You may pay with your registered Starbucks card, and earn stars for your purchases. If it is a "double star" day, you will earn double stars at the Roastery too. You cannot, however, redeem rewards at the Roastery. You cannot use a birthday reward or other star reward at the Roastery
Can I watch coffee being roasted? Yes. There are two coffee roasters at the Roastery. One is large roaster near the experience bar at the lower level, and a smaller roaster upstairs near the merchandise area.
Of course, if you have questions about the Roastery or Starbucks generally, I will try to help. You can reach me via the contact form on this website. For official Starbucks information, contact customer service.
Enjoy your visit to the Roastery via photos below – all take October 7, 2017.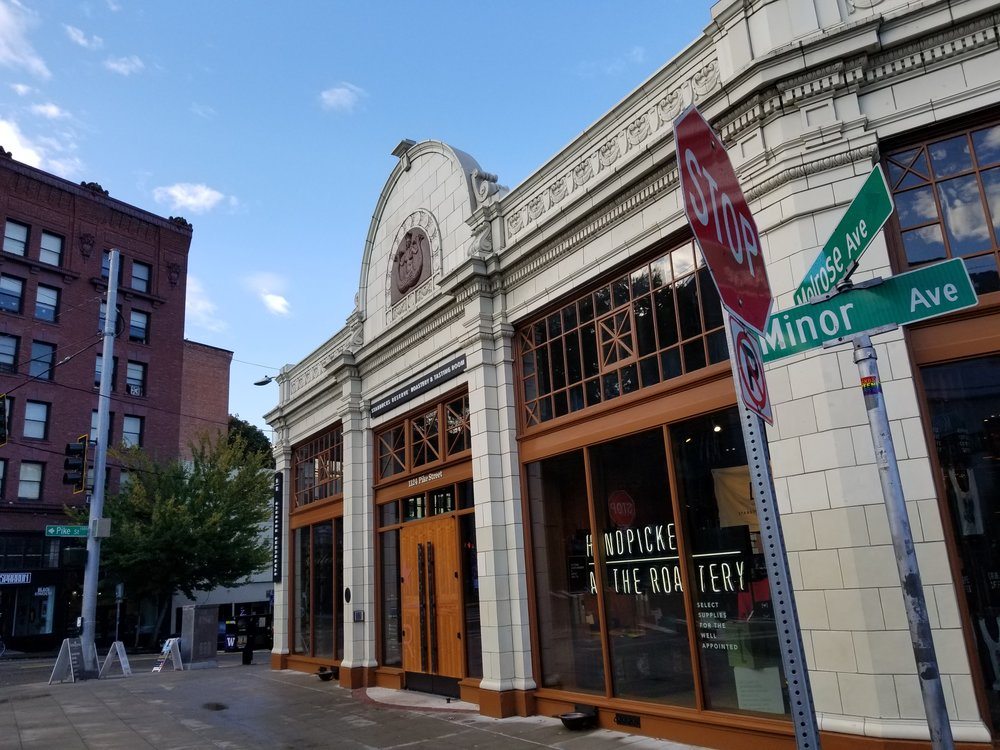 Related posts