Latte Art at Starbucks.
Melody, September 7, 2013
12
2 min

read
This evening (September 6, 2013), I dropped by the Pine Street Starbucks, and chatted for a few minutes with Jason, a barista at that store.  He was on his lunch, kind of hanging out in the cafe.  I have had a number of great conversations with Jason, and he is one of my favorite partners.  (I have many favorite partners!).
I said to Jason, "I feel like I need a blog post for tomorrow, and I don't have anything written.  What should I write about?"
And without hesitation, he said, "Melody, I think you should write about latte art."
I thought 'That's a pretty good idea.'  I don't think I have ever really talked about latte art at Starbucks before.  I mentioned milk pitchers once, but I have never put a spotlight on latte art.
Before I knew it, Jason was back on the floor, and so I ordered a latte, and told him that I would take a photo of it: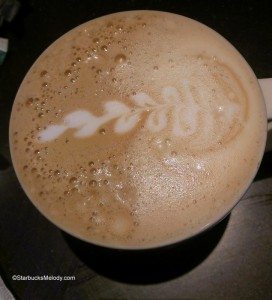 Jason lamented that latte art was a little more difficult in Starbucks pitchers, versus smaller pitchers.  He wanted to make sure that I knew that he could create something a little prettier, if using a slightly smaller pitcher.  Out of nowhere it seemed, he had some smaller pitchers, and created this beautiful latte art: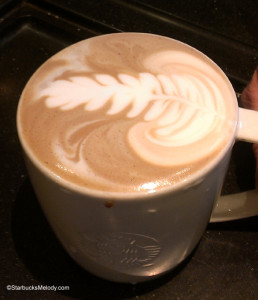 Frankly, I thought his first one was very good, considering he only had one try to make it perfect.
The latte art conversation reminded me of a photo that was on my phone from just last month.  I had dropped by the Pacific Place Starbucks, and spent a moment talking to Christoper on bar.  I will say, Christopher really makes being on bar look effortless.  He was working through a short line of customer beverages, and as I watched him work, I realized that every single beverage was handed off with some sort of quick latte art.  I snapped a photo of this drink, only to see that just a moment later, Christopher put whipped-cream on top: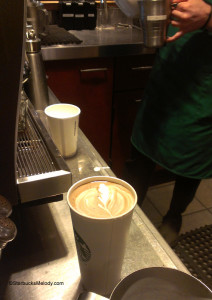 That photo doesn't showcase Christopher's latte art skills, in that I have seen him produce larger, prettier rosettas on lattes.  Still, I am wholly impressed that anyone can work at the speed needed at a Starbucks cafe, with large pitchers, and hand off every single beverage with some kind of latte art on it.
When I order a latte, I generally do lift the lid and look at the foam before I take the first sip.  I would notice latte art!  I enjoy seeing it on a beverage, and wonder if others feel the same way?
Thank you Jason for the blog topic idea.
Related posts