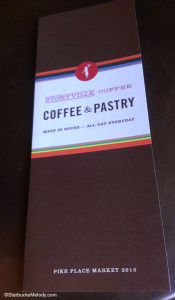 I have a couple of reasons to write about Storyville.  This blog post is not about Starbucks.  But, I do care about what happens at the Market, and I love coffee.  I will not be offended if my hard-core Starbucks readers stop reading now.  One thing I have always said is that the only way to really get a good coffee education is to drink a wide variety of roasters' coffees.
This morning I got my first sneak peek inside the new Storyville coffeehouse, located right inside Pike Place Market, at 94 Pike Street.  It is not actually open to the public yet – the official grand opening is October 1, 2013.  The location is 94 Pike Street, which near the very entrance to the Market, in the building across the street from the First and Pike Starbucks.  I love this area, by the way.  I walk to the Market occasionally on Saturday or Sunday mornings, just to get my day started right.
So as part of a special pre-opening invite, I walked to Storyville to check it out early this morning.  I walked in and immediately noticed that they're using Synesso espresso machines.  It actually seems like in Seattle, the standard for espresso machines has become either the Simonelli or the Synesso, both of which completely dominate the indie Seattle coffee scene.
I walked up to the bar to order.  Unfortunately, I did not look at the menu at all.  I just assumed I would be able to order a doppio con panna.  I was wrong.  I asked for a doppio con panna, and was told by a nice barista that there is no whipped cream in this coffeehouse.  The barista told me that they only offer traditional espresso beverages.  I had thought that a doppio con panna was a traditional espresso beverage!  I then attempted to order brewed coffee.  (Again, truly my mistake for not actually looking at the menu before trying to order).  There is no ready-made brewed coffee.  There is no per-cup system of brewed coffee available.  (I would have expected a pour-over system for individual coffee orders.)  They can make a huge French press of coffee (the menu says it is 32 ounces) or you can get an Americano.  The barista encouraged me to try one of their espresso macchiattos, and so I simply "yes" to that.
My espresso macchiatto was beautiful and amazing: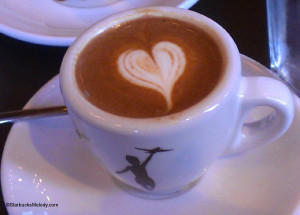 I sat enjoying my espresso macchiatto, and then was joined by a friend (Jim) who is also a coffeehouse fan.  Shortly after he arrived, a barista came by our table with a "sample" of waffles.  These were stunningly good.  They were extremely light, and crispy.  Very little doughy-ness to them.  I learned from Storyville baristas that all their treats are baked in-house, in the back where there is a kitchen, and nothing is more than 3 hours old.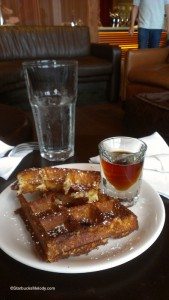 Jim had some sort of sea salt caramel roll, that too was an amazingly delicious.  He ordered a breve latte, which he said was caramelly-sweet and wonderful.   The bakery items are unbelievable.
The lobby is large, adorned in deep wood tones, bar seating, a fireplace, and comfy couch seating too. The view from the lobby is fantastic: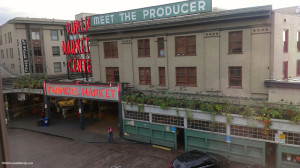 One thing that is interesting is that they really don't showcase a lot of coffee in their merchandise wall.  You can see a couple of pouches of their coffee blends in the center of the lone merchandise wall: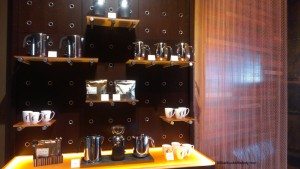 Storyville has an amazing espresso bar, and delicious bakery items.  I actually cannot say much about their whole bean coffee blends.  Maybe that will be another trip in – at some point I will try again to order a single cup of coffee, and if not, I'll get the large French press.
I want to share just a few more pictures.  If you are visiting Pike Place Market, you probably want to put this on your list of places to visit!  (Along with Beechers, the Confectional and 1912 Pike Place.)
I pulled this great photo of Storyville from their website.  You can see it is a large, pretty space: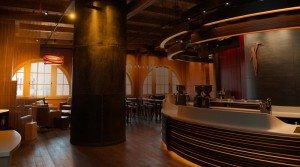 And Colleen, this blog post is just for you! 🙂 Jim's daughter (Colleen) recently was hired by Storyville, so this was part of the encouragement to go check it out!  We will be back to our regularly scheduled Starbucks programming soon!
Related posts