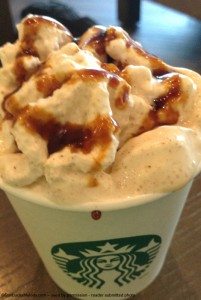 Starbucks holiday drinks are nearly here!  Starting November 1, 2013, you'll see the return of the Eggnog Latte, the Peppermint Mocha, the Caramel Brulee Latte, and the Gingerbread Latte.  The Gingerbread Latte gets a new and improved recipe:  the topping is now a real molasses drizzle, and the whipped cream is a spice flavored whipped cream.   Tomorrow is the big day!  The launch of the holiday drinks is when so many people look forward to red cups and their favorite beverage.
I recommend an older blog post on the history of the Eggnog Latte – it's been offered at Starbucks every year since 1986.  The Caramel Brulee Latte was the most recent introduction to the holiday drink lineup, having been introduced in November 2009.
I know that a few people have had sneak peeks of the new Gingerbread Latte.  What do you think?  What's your favorite holiday beverage?  Thank you to the three readers who submitted great photos!
Related posts