A Coffee Event Featuring Starbucks Espresso Roast.
Melody, October 30, 2013
8
5 min

read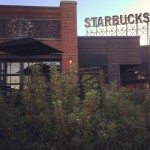 This past Monday (October 28, 2013), I went to a coffee seminar at the East Olive Way Starbucks. Coffee Master Jess featured Starbucks Espresso Roast, and we compared flavor via brew methods, and compared it to Starbucks Christmas Blend Espresso Roast.
I'm sure everyone reading this knows this, but just because a coffee is roasted to a dark espresso roast profile, doesn't mean that you cannot enjoy the same coffee via any brew method you like.  I have seen the confusion where someone says that Starbucks Espresso Roast is "only" for pulling espresso shots.  This is not true!  You can use any coffee for your espresso. You can use your Starbucks Espresso Roast for any brew method that you like.
I have a true fondness for Espresso Roast.  When Pike Place Roast was introduced into the Starbucks coffee lineup (in April 2008), Starbucks stores stopped brewing bold coffee all day.  In 2008, this was before there were Clover Starbucks everywhere too.  Actually, I recall some frustrating times when I felt like I was going to give up on Starbucks.  When partners would say there was 'no bold' and they said that they could not open a one-pound bag of coffee, I would often ask for Espresso Roast to be made a drip. Unfortunately, this did annoy some partners who then would insist that I should order an Americano because it's 'the same thing.'  My only point is that the flavor of the coffee IS greatly affected by brew method.  And this is true for every coffee, not just Espresso Roast.
Jess walked us through trying Starbucks Espresso Roast made as an espresso shot, via a paper filter (Bunn brewed), on the Clover, and as a French press.  What a great experience.  It had been a while since I'd deeply explored Espresso Roast.  We took a field trip from the coffee event area over to the espresso machines, and we all drank one beautifully pulled shot of espresso: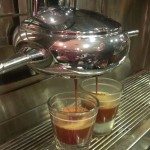 The body of the espresso shot definitely had that characteristic caramelly sweet flavor, which Espresso Roast is known for.  This was great.  I would not normally drink straight shots, but a doppio con panna with perfect shots is a thing of beauty for me.
For me, the surprises came when comparing the paper filter-brewed (Bunn brewer) Espresso Roast with the Clover brewed Espresso Roast.  The paper filter absorbs a lot of the oils of the coffee beans, and so it takes out some of the body of the coffee.  It was a little thinner in the mouth than what I remembered.  The aroma (with both brew methods) had a lot of the smokiness of the roast profile.  I was surprised at how much better it was from the Clover than from the Bunn brewer.  I say that with sincerity.  I do not automatically that the Clover is the best brew method for every coffee.  The Clover brewed Espresso Roast had more of the caramelly, burnt-sugar flavor, and a bigger mouth feel.  The Clover won for me, hands down.
The final brew method was via the French press.  I haven't had Espresso Roast on a French press in ages.  This was quite a experience.  The coffee was much oiler than any other brew method.  (I have heard it said that some people who are on a very strict low-oil diet will only consume paper filter-brewed coffee to avoid oil consumption.)  The tasting cup of coffee had almost a visible oil sheen to it.  The aroma from the French pressed coffee was very smoky, and there was almost no acidity at all to it.  This was a very smooth cup of coffee.
Clover brewed Espresso roast was the clear winner of each of the brew methods.  And, I have ordered this at times, and loved it.
Starbucks Espresso Roast was blended by Dave Olsen, a former Starbucks partner (now retired) who was with Starbucks for decades and decades.  It is said that he used Starbucks beans, and blended the Espresso Roast for Cafe Allegro (an independent Seattle coffeehouse).  Howard Schultz met Dave Olsen, immediately saw his coffee genius, and persuaded him to become a part of Starbucks.  He was the highest level coffee executive at Starbucks, until he retired in 2013, when Craig Russell took his position.
What was really amazing at this coffee event was that we ended with a sneak tasting of Christmas Blend Espresso Roast.  This is Starbucks Christmas Blend roasted to an espresso roast profile.
Recall, Christmas Blend is a "post roast" blend, and the core Espresso Roast is a "pre-roast" blend.  This means that for the core Espresso Roast, all the bins are combined together, and then roasted all together inside the coffee roaster.  As a post-roast blend, Christmas Espresso Roast contains coffee beans that are given differing roast profiles, and then blended after roasting. For example, the Latin American beans may not be given the same treatment as the Aged Sumatra component of Starbucks Christmas Blend.  (One of my very first articles on this site – the blog was less than one month old – was about Aged Sumatra.  I still recommend reading it.)
Because of this difference in roast treatment and blending, the Starbucks Christmas Blend Espresso Roast looks a little less shiny than the core Espresso Roast.  This is because some of the coffee beans have been roasted less darkly than some of the other beans within the blend.  In contrast, core Espresso Roast is roasted to a uniform dark roast profile.  (In the picture below, core Espresso Roast is on the left.)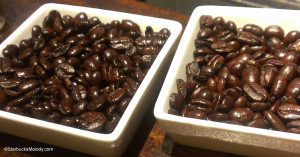 Oh yes, and I loved this year's Christmas Blend Espresso Roast.  It will be amazing for home – just as your basic cup of coffee.  Smooth.  Bold. Complex. Spicy. Wonderful.  Starbucks Christmas Blend and Christmas Blend Espresso Roast are available in stores on November 12, 2013.
Enjoy the rest of the photos from the event:
Related posts