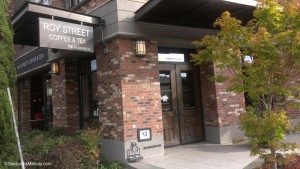 I apologize, but over the years of blogging at StarbucksMelody.com, I sometimes write blog articles that sound a bit like a page out of Melody's diary!  This might be one of those entries!  I won't be offended if you stop reading.
Today, (August 17, 2013) I definitely had a quest this morning.  I had heard gossip about "Starbucks Reserve Micro Blend 11", and I wanted to try it.  I had heard the only location (in Seattle) where it could be found was Roy Street.  I was very goal-directed this morning, in that I was hoping to get my hands on it.  I heard pieces of gossip about this special coffee.  One person told me that Roy Street was all out, but I decided I would drop by anyway.  Another person had told me that the only two places actually selling this Reserve Micro Blend 11 coffee was Roy Street Coffee and Tea and the Herald Square Starbucks in New York.
Sure enough, I found Starbucks Reserve Micro Blend 11.  I ordered it as a for-here Clover cup of coffee: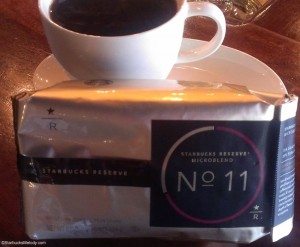 But before I talk about Reserve Micro Blend 11, I have to say that I was delighted to walk in and see barista Matt on bar!  I met him in 2006, when he worked at the Fourth and Cherry (Columbia Tower) Starbucks in downtown Seattle!  He went from the Columbia Tower store to 15th Avenue Coffee and Tea in 2009 to open up that concept store, so I continued to connect with him there as well.  I often joked with him that he was famous.   When 15th Avenue Coffee and Tea (now a Starbucks) was brand new, he managed to sneak into a number of news articles about that store.  You can see Matt in this link here, wearing a blue shirt.
It was like seeing an old friend again.  My heart swelled.  I realize that sounds super dorky, but it's true.  He literally said to me (with a smile on his face!), "Melody! I was wondering when I was going to see you here?"  As I understand it, Matt had a break from Starbucks for a while, and then returned as a partner about two months ago at Roy Street.  I sat near the bar with him, and had such a nice time catching up.  He told me that he got a dog, and he showed me these adorable pics on his phone of a small Terrier.  I drank my Micro Blend 11, ate a egg and sausage breakfast Stromboli, and sat near the bar chatting with him as he worked.  Every beverage he handed off had some kind of latte art on it.  Here's Matt at the bar: (just a random pic of him working)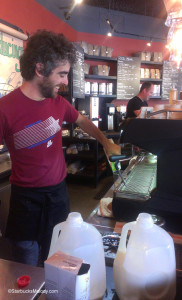 Matt told me all about being in a band called "Crazy Eyes," and mentioned that he was playing tonight.  He asked me if I wanted to come see him play tonight, and I declined.  I have a group of friends with whom I have volunteered regularly, and tonight we are making a meal at Operation Nightwatch for Seattle's homeless.  I suggested to him that he should visit StarbucksMelody again soon, telling him that he will see his picture there!  He wanted me to look at Crazy Eyes, so we did a little pinky-swear that we'd each check out the other's website/page.
If you haven't been to Roy Street, you should go.  It's operated by Starbucks, so you'll get a star per swipe, and find a few familiar coffees.  Look at how beautiful it is: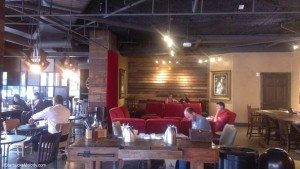 Roy Street Coffee & Tea is located at 700 Broadway East in Seattle, and the phone number is (206) 325 – 2211.
Turning back to the conversation about Starbucks MicroBlend 11: Wow.  That is amazing.  I loved it!  I genuinely love great coffee.  The side of the bag says it is 30% sun-dried Ethiopia, and 70% Guatemala Antigua.  The bag describes it as "dense with jammy berry notes and a rich, port-like mouthfeel."  There were two bags at Roy Street, and so I bought both.  Jacob, the store manager of Roy Street, thought it might be possible that they'd be getting in one more shipment of MicroBlend 11 sometime this upcoming week.  I talked to Matt about this coffee, and he described it as "raspberry jam."  It is exquisite.
At this point, having had a lovely breakfast, and a fantastic opportunity to catch up with Matt, I decided to walk home.  I headed south on Broadway, and realized that I would literally be walking right past the new Pike and Broadway Starbucks on my way home.  I figured that I should stop in there too.  It's about half way between Roy Street and home.  So, I dropped by Pike and Broadway, sat down with a Cool Lime Refresher, and played Words With Friends for about fifteen minutes or so.  I was pretty engrossed in my games.  When I looked up, Howard Schultz was standing directly in front of me.  He was literally right in front of me, in the line to order, with the table between us.  He then saw me, and immediately reached out and shook my hand.  We chatted for a moment.  I was still feeling effervescent about scoring two bags of Micro Blend 11, and so I pulled them out of the paper bag, and proudly showed them to Howard.  He smiled.  He said to me, "That coffee is fantastic.  It's extraordinary."  We had another moment of chatter.  And then I finished my drink, and headed out the door, as Howard continue to hang out at Pike and Broadway.  I overheard one of the Pike and Broadway baristas telling him about the store design, talking about the original building elements that were retained in this Starbucks, such as original molding up high along the ceiling.
I then I headed toward Union Street, and walked down the hill home, and wrote this article, which is truly a page of my day.  I hope you don't mind!
~Melody
Related posts