Coming soon:  On December 9, 2013, you'll be able to buy a tumbler at Starbucks that is re-fillable with brewed coffee during January 2014.  A reader of this blog spotted the tumblers in a Target Starbucks, and sent in the attached photo.  The price tag for the January coffee-only tumbler is $30.00.  If you want a tumbler that you can refill in January with any handcrafted espresso beverage (such as lattes, mochas, and I assume an Americano also) then you might want to consider looking for the January espresso-beverage-only tumbler.  I am a little surprised but I've seen a few of the Espresso Beverage Tumblers still around downtown Seattle.
Just to be clear, with the Brewed Coffee Tumbler, you can get free during the month of January 2014, whatever brewed coffee of the day is available (such as Pike Place Roast, Veranda Blend Coffee, etc…).  Theoretically, you should only be able to use the tumbler once a day, but I think it's a well-known fact that is the kind of thing that is hard to keep track of.  Also, I think the intent really is just brewed coffee, but as I recall, last year it was a point of ambiguity whether iced coffee would be allowed.  I think there were many partners who would just say "yes" to iced coffee in this tumbler (I probably would if I worked for Starbucks) but I don't believe that technically iced coffee is included – someone please correct me if you know for sure.  The tumbler is a Grande size (16 ounces).
Thank you Kathi for sending in your photo!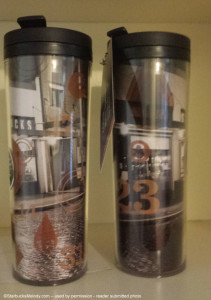 Related posts