Starbucks Steel Card 2013: A Limited Card through Gilt.com
Melody, December 5, 2013
116
1 min

read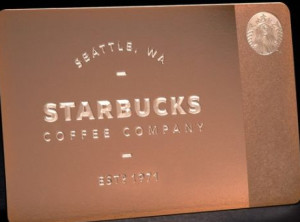 Starbucks will soon be offering a new stainless steel card.  It's available beginning this Friday, and will be sold exclusively by Gilt.com.  There is only 1,000 of these cards, so they'll be gone super fast.  I can't even imagine that I'll be lucky enough to get one!
Some readers may recall that last year Starbucks had a similar offering, producing 5,000 steel cards available via Gilt.com.  Just like last year, the stainless steel card retails for $450.00, and comes with a $400 balance pre-loaded on the card.  Also, once the card is registered, a Gold-level MyStarbucksRewards membership is unlocked.  Obviously, it's a pretty incredible item for the serious Starbucks card collector or enthusiast!
The official Starbucks.com newsroom article on this steel card is here.
If you want to browse through previous articles about Starbucks Card, click through here.
So who's going to try and get one?  I think I will try but the truth is, since there is only 1,000 of them the odds are against me that I'll be successful.
(Open thread – talk about anything Starbucks related).
Related posts