I visited recently two Starbucks in Burlington, Massachusetts, and decided to write about both of them.
Starbucks store 7279
84 Burlington Mall Road
The Marketplace
Burlington, MA 01803
(781) 273 6544
The first one is a Clover – Reserve Starbucks located at the  Marketplace at Burlington (store 7279) is near the Burlington Mall.  I dropped by the day after Thanksgiving and bought a January Espresso Tumbler, and ordered a short Aged Sumatra.  This Starbucks has Google WiFi too!  I thought I'd share a few photos from this visit.
I hope you get the chance to visit that Clover store!
Starbucks store 19385
2 Wayside Drive
Wayside Commons
Burlington, MA 01803
(781)
From that Starbucks, I headed to the Starbucks in Burlington on Wayside Drive.  The visit to the Clover store was a little more of a short, surprise visit.  The visit to the store on Wayside Drive was a little more planned.  Starbucks on Wayside Drive opened new May 2, 2013.  This store is super cozy and cute with a fireplace with four comfy seats near it.  I dropped by on November 29, 2013, and loved that all the store partners had a (small) stocking hung over the fireplace with their names on it!  Take a look at this great store:
Here I am with the crew that was working at the Wayside Drive, Burlington store when I dropped by: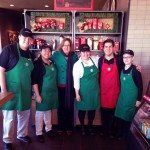 The baristas at this store were very friendly.  I think you'll like this store.  I chatted with Piotr, a shift supervisor at this store, and he mentioned he opened the store new on May 2nd.  Some of my readers might be familiar with a customer named Winter who is on a quest to visit every single Starbucks in the world.  I'm always a little amazed when I get to a store before him!  Much to my surprise, Winter hasn't visited this Starbucks yet!  You can see all the U.S. stores that he's visited here.  What do you think of Winter's adventure? You can "like" his Facebook page and see more of the stores that he's been to recently.
Enjoy these two stores!
Related posts