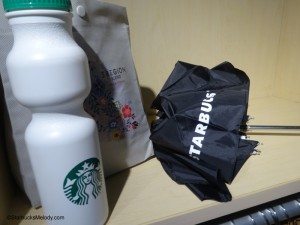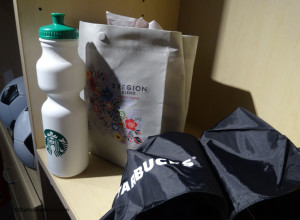 Thank you to the Starbucks Coffee Gear Store for sponsoring this great giveaway!  The prize is a gift set including a Starbucks umbrella, Three Region small tote, and a Starbucks water bottle.  The winner will be drawn at random.  If you want to enter in, just leave a comment with your favorite Starbucks Christmas or winter-time holiday memory below – it could be anything Christmas-holiday-seasonal!  Maybe it's the first time you tried the holiday beverages or a Starbucks gift that spoke to you?  It does have to relate to Starbucks.
There are a few rules.  I will delete all off topic comments!  You really do have to tie your comment to the Starbucks holiday season.  Please enter with a valid email address so that I can easily reach you, if you are the winner.  You must be over age eighteen.  The odds of winner depends upon the number of comments below, or one in 150, depending upon the number of valid entries.  No more than 150 comments may be posted in this thread.  I will lock the thread at 150 comments.  You must post your entry before December 31, 2013, at 5:00 p.m. PST.  Only one entry is allowed per person.
I cringe to say this, but I must: Every time I do a giveaway, I get some entries that don't follow the rules.  The two most common problems are as follows – for some reason, some people will try to send me an email with their entry rather than leaving a comment directly on this blog.  You really do have leave a blog comment below.  The other thing is simply that some people will try to leave an off-topic comment – I will not approve an off-topic comment.
Best of luck to you!  Hope you win the tote, umbrella, and water bottle!  Thank you to the Starbucks Coffee Gear Store for sponsoring this!
(Edit:  I can tell by the comments in moderation that I've managed to confuse a number of people with this giveaway.  The comment must be on point, relating to specifically Starbucks and the Christmas season.  I probably should have required the words either "Holiday" or "Christmas" in the comment because so many people are leaving comments that could be year-round activities.  I think that some people read it as Starbucks or the holiday seasonal memories.  It's "and" and not "or."  And, I won't approve a comment if I have guess why it fits – a few people have left me comments about holiday things they like to do, without ever mentioning Starbucks.  And a few people are leaving Starbucks comments that are Starbucks mugs/cups/drinks that are available year-round.  I'm sorry to have created such a confusing giveaway.  Contact me if you have questions.  Despite the confusion, I'm surprised at the how fast new comments are coming! Thanks!  If you don't see your comment below, try re-writing it again with clarity around "holiday" or "Christmas".  Thanks.)
Related posts
Socialize

Subscribe
Join the StarbucksMelody.com mailing list to receive a weekly email with new posts.