The Wonder of the Season: Starbucks Japan
Melody, December 26, 2013
11
2 min

read
Today, when I arrived home from work, I looked in my mailbox and saw a small gift bag from Japan.  Who could that be from? And then I remembered that a regular blog reader (Izumi) had come to visit Seattle this fall.  Sure enough, it was from Izumi, whom I had caught up with during her vacation earlier this year.  I was pretty touched at the thoughtfulness. It was obvious that a lot of care went into it.  To be honest, I think it's much easier to give gifts in life rather than to receive them.  The problem with getting gifts is that I find myself at a loss for the right words.  I want to say more than just a simple 'thank you.'
The little gift package of things was totally adorable.  In it, there was a 3-pack of Christmas Blend Coffee Essence (this is what Via Ready Brew is called in Japan) shaped like a red cup.  I really thought the cute little Starbucks snowman pin (the kind you might wear on a green apron or lapel) was too cute.  Notice that there was a some sort of little pamphlet which described one of the current holiday beverages in Starbucks Japan as the Crushed Marron Pie Latte or Crushed Marron Pie Frappucino.  I have a tough time imagining what that tastes like, but I notice that Starbucks Japan gets the most creative Frappuccino beverages! (Click onto all of the photos to make them larger.)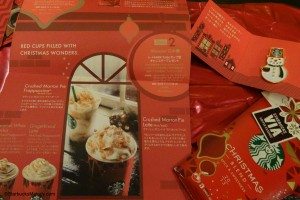 I loved that in Starbucks Japan, you can buy an actual Starbucks Christmas Card which includes a brown envelop for mailing.  The inside is blank for your personal message.  Izumi filled it with kind words!  She says she reads this blog all the time!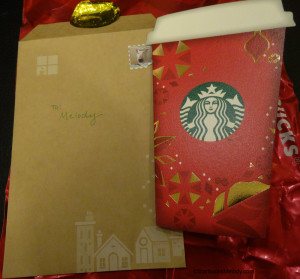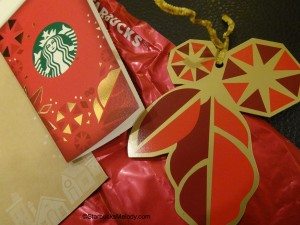 There was a large flyer which unfolded into a brochure featuring the full lineup of Starbucks Japan 2013 holiday gifts.  Notice that it looks like they have many more tumblers than we do here!  I also think it's interesting that they appear to have some sort of Advent Calendar Christmas Tree!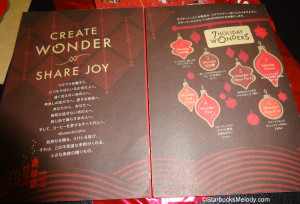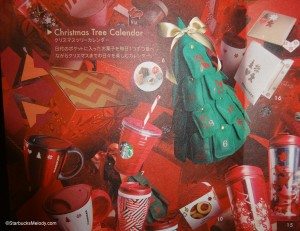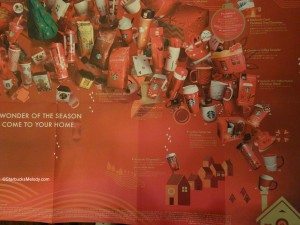 I just wanted to say a big thank you to Izumi.  Hope you enjoy this tiny glimpse of Starbucks Japan holiday offerings too.
Melody
Related posts