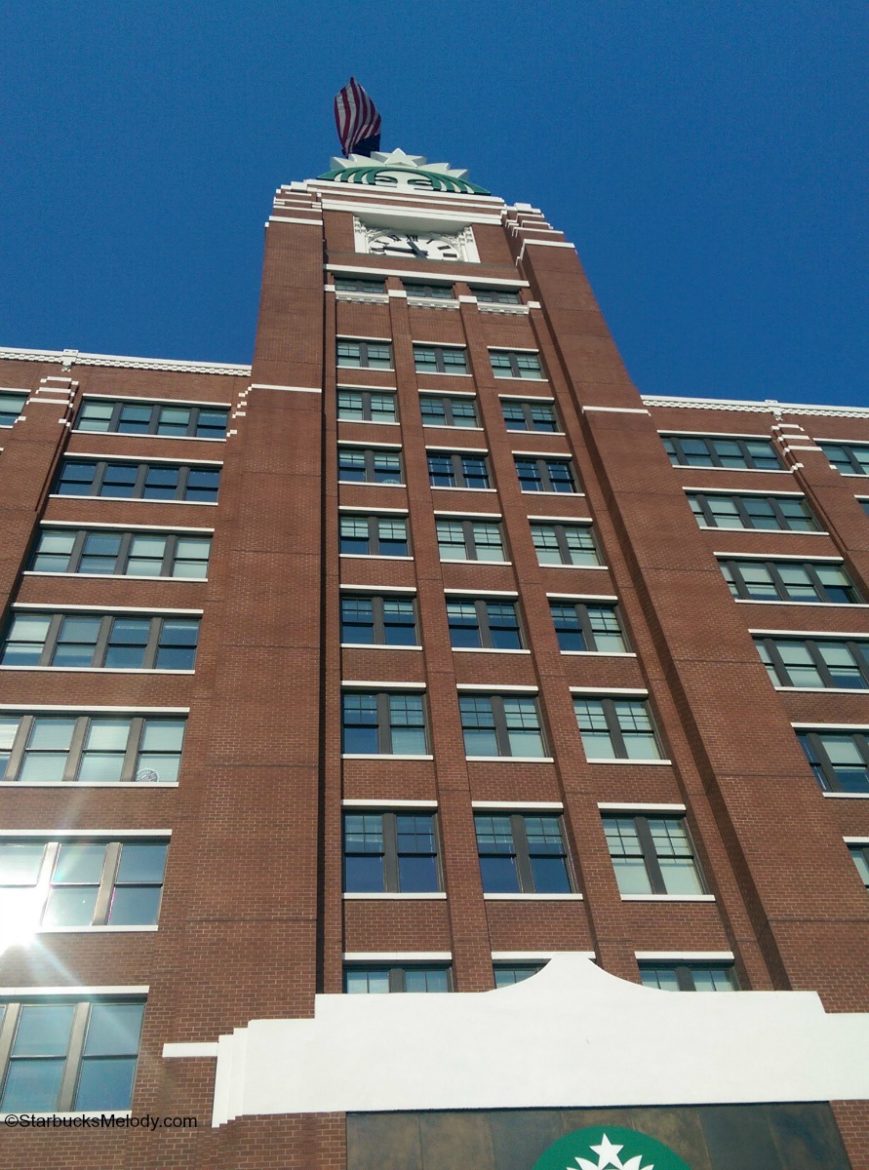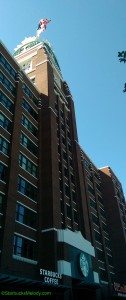 Welcome to 2015! Happy new year! As you are thinking about your plans for 2015, you might be thinking about a trip to Seattle. This is your Starbucks vacation guide. You might want to bookmark this page. 😉

"What Starbucks things should I see in Seattle?" is a common question. If you ask me that question in an email, tweet, or on Facebook, and I refer you to this article, please don't be alarmed. There's just too much here to re-write in emails, tweets, or a Facebook status update.
Another question I sometimes get asked is, "How can I get a tour of the Starbucks headquarters?" I'll touch on that at the end of the article.
MUST-SEE STARBUCKS DESTINATIONS: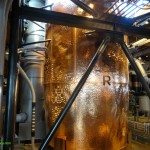 The Starbucks Reserve Roastery and Tasting Room – Opened December 5, 2014, this is not to be missed. It's 15,000 square feet of coffee worship. You can try freshly-roasted coffee via a number of brew methods, including Clover brewed, siphon pot, pour over and more. You can watch coffee being roasted right before your eyes. You buy lots of merchandise and coffee exclusive to this store. And the food is made by Tom Douglas, a famous Seattle restauranteur.  The Roastery also has a Serious Pie inside of it – a wonderful pizza place operated by Tom Douglas restaurants. The Roastery is located at 1124 Pike Street in Seattle, on the edge of downtown Seattle, First Hill and Capitol Hill neighborhoods. I've heard numerous people tell me that there are plans for Starbucks to operate a shuttle between 1912 Pike Place and the Roastery. Don't quote me on that! If you don't want to walk between the Roastery and 1912 Pike Place, you can take King County Metro local bus numbers 10, 11, 43, and 49, all of which run from Third and Pike to Pike and Boren. Your stop for the Roastery will be Pike and Boren. These buses tend to be crowded, slow city buses, just to warn you.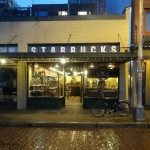 1912 Pike Place Starbucks – This is the historic Starbucks inside Seattle's Pike Place Market, This is where "it all began," as is often said. Here, you can buy a coffee made exclusively for this store (and sold at 1st and Pike Starbucks which is just at the edge of the Market) called Pike Place Special Reserve. It is reserved exclusively to the two Starbucks stores at the Market. Just a tip, true Seattleite's never call it "Pike's Place" – There is no "s." Just call it "Pike Place" please! The 1912 Pike Place Starbucks handcrafts your beverage with a classic La Marzocco espresso machine. There is a lot of merchandise exclusive to this store too. The address for this oldest Starbucks is – obviously – 1912 Pike Place, Seattle, Washington, 98101.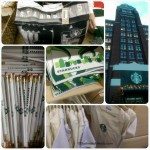 The Starbucks Coffee Gear Store – This is the one location where you can find unique Starbucks merchandise, not available elsewhere. It IS open to the public. I sometimes hear baristas say in a confused way that this store is only for partners (employees). This is not true. The Starbucks Coffee Gear Store website is only available for partners, but the actual store itself is open to the public. You'll find the Starbucks Coffee Gear Store is located at 2401 Utah Avenue South, Seattle, Washington 98134. It is open Monday through Friday, normal business hours. (Closed major holidays and weekends).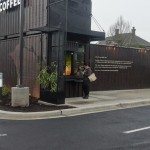 The Ballard Shipping Container Starbucks – There aren't very many Starbucks around the country that are designed from shipping containers. Inside Seattle, there's one shipping container store in the Ballard neighborhood, off of 15th Avenue NW. There is also a shipping container store just outside of Seattle, in Tukwila. The Tukwila shipping container Starbucks was the first of its kind, and it really is just outside of Seattle, along East Marginal Way. (Once in a while, I've seen both customers and baristas confused that Starbucks operates two very similar concept drive-thru store designs. One design type is the pre-fab construction Starbucks design. Another is the shipping container store. There are more of the pre-fab construction drive-thrus than shipping container, although both are fairly rare in the Starbucks store portfolio.)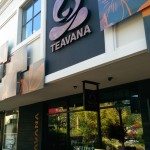 Teavana concept store in University Village – Teavana is fully owned and operated by Starbucks. There are a few Teavana stores that are unique concept stores. In addition to selling Teavana loose leaf teas, the concept stores have a spacious interior, food offerings, and a unique tea lattes, tea smoothies and other handcrafted tea drinks. Here's the link to the University Village shopping center where you'll find this special store.
While you're in University Village, there is more to see. There is an Evenings Starbucks inside University Village.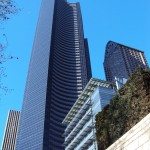 The 40th floor "Sky Bucks" Starbucks inside the Columbia Tower – This Starbucks is not a special concept store. In fact, you'll find traditional Starbucks food and drink here. However, it's location is amazing. This store is on the 40th floor of Seattle's tallest building – the Columbia Tower. The 40th floor Starbucks is open to the public, and has tremendous views of the city from it. I mentioned the 40th floor Starbucks in this old 2013 article – it's a little dated but still shows off how unique the views are! Free views of Seattle from this Starbucks! 🙂
You will find this store at 701 5th Avenue in downtown Seattle, on Fifth Avenue between Cherry and Columbia streets.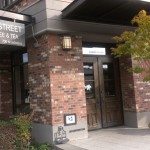 Roy Street Coffee and Tea – This is a concept store completely owned and operated by Starbucks. However it's very unique – there are no blenders, one-of-a-kind foods, and handcrafted espresso beverages. Like other Starbucks concept operations, you'll earn a star for each transaction, but there is no way to redeem a reward there.
You'll find Roy Street at 700 Broadway East, in Seattle's Capitol Hill neighborhood. Their official website is here.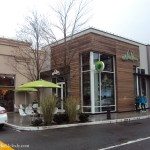 Evolution Fresh Store – Starbucks operates four Evolution Fresh locations. The first one opened up in Bellevue. There is one conveniently located in University Village, so while you're there checking out the Teavana concept store, visit the Evolution Fresh location too!
If you are a Starbucks card collector, pick up an Evolution Fresh card while visiting this store. The Evolution Fresh-designed Starbucks card can fully be used as a Starbucks card. Register it, load money on it, and earn stars each time you swipe the card at Starbucks, Teavana, Roy Street Coffee, the Roastery, and Evolution Fresh stores. The Evolution Fresh Starbucks card is the only Starbucks card (as far as I know) that doesn't have the word Starbucks anywhere on it.
My own favorite drink at Evolution Fresh is the Smooth Carrot Smoothie!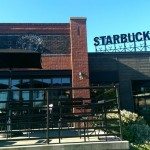 Join a coffee tasting at East Olive Way Starbucks – The East Olive Way Starbucks is an Evenings store as well as a Reserve store. You can enjoy a lovely glass of wine. You can enjoy small plated foods like truffle mac and cheese. And this particular store offers regular and consistent coffee seminars. They are generally every other Monday at 6:00 PM. They are free and open to the public. Why not take in a coffee tasting at East Olive Way while you're visiting Seattle? 🙂 The address is 1600 East Olive Way. The phone number is (206) 568-5185.
This Starbucks also has a unique store design in the sense that the bar and register areas are designed that a customer could walk all the way around it, like walking around a circle in the center of the store. East Olive Way has both plenty of inside seating, porch seating, as well as an indoor-outdoor fireplace.
Enjoy your trip to East Olive Way Starbucks!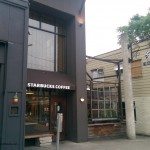 Visit the Starbucks at 328 – 15th Avenue East in Seattle. This store was once a concept Starbucks called "15th Avenue Coffee and Tea" similar to the Roy Street concept store. It's now a normal Starbucks. It offers traditional Starbucks beverages and food.
However, since it has this history of being a concept store, it is a very unique store design and a manual espresso machine. If you can drop by this store on your trip to Seattle, it's worth a look.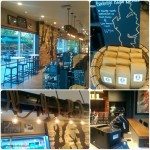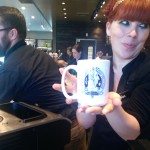 If you have a little extra time, take a ferry from Seattle to Bainbridge and visit the Bainbridge Island Starbucks. This is a little easier with a car, as the Bainbridge Island Starbucks is about a mile uphill from the ferry landing. Bainbridge Island is a darling area to visit, and this Starbucks opened up new this year, in September. In keeping with a tradition of having unique, and localized offerings, this Starbucks has its own Bainbridge Island mugs, and you can get Bainbridge Island Blend coffee there too. This technically isn't a Seattle sight, but it is worth a trip, if you can squeeze it into your vacation plans.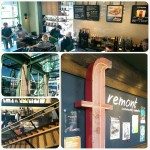 The Fremont Starbucks – In the Fremont neighborhood of Seattle, there's a cute little neighborhood called the Fremont Starbucks. It relocated to a new and larger space in 2014. It's a Reserve-Clover store too. It is a beautiful Starbucks, though there's so much to see in Seattle, I can see how this one might not be high on your list. I particularly like this store's design, so I want to mention it here too as a possibility. And the Fremont neighborhood has a lot to see generally. You can see the Fremont Troll, Theo Chocolates, the Fremont Bridge and much more.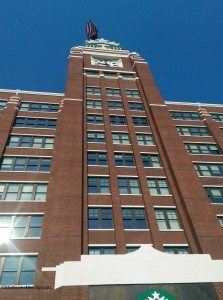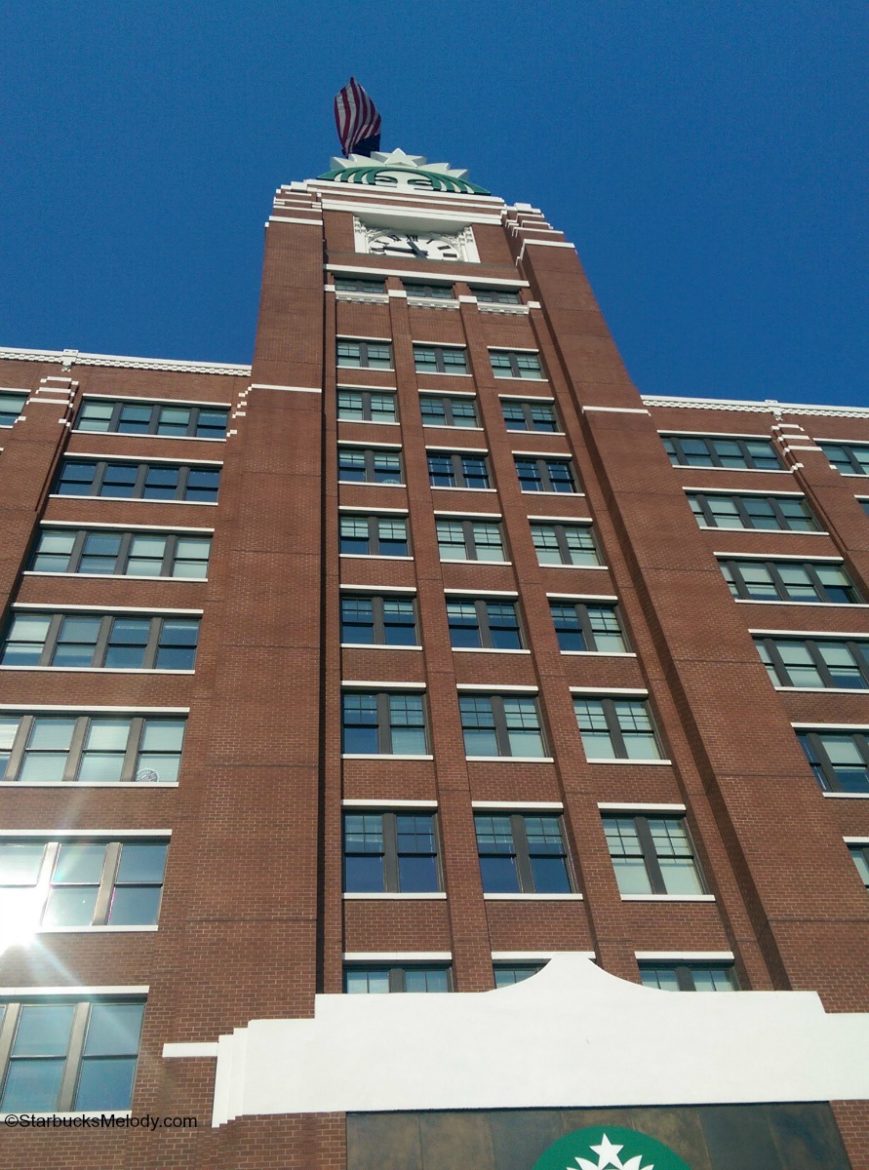 HOW DO I GET A TOUR INSIDE THE STARBUCKS HEADQUARTERS?
Now and then, I get asked "How can I get a tour of the headquarters?" There is not an easy answer.
If you are a partner, and if you happen to already know someone who works inside the headquarters, you might want to ask that person if he or she can give you a tour. If you don't know someone who wants to give you a tour, talk to your district manager.
By the way, Starbucks refers to the headquarters as the "SSC" which is short for the Starbucks Support Center. The address is 2401 Utah Avenue South, Seattle, Washington, 98134. If arriving by public transportation, consider taking the Link Light Rail to the SODO station, and then walk straight down Lander to First Avenue. You'll easily see the headquarters.
There is NO system set up to give tours of the inside of the headquarters. If you are a customer, don't count on getting inside – unless you already know someone who wants to give you a tour, it's not likely. In fact, I get asked all the time "Have you had a tour of the headquarters?". I always joke that I'm seeing the whole headquarters in 20 or 30 short visits, and in little pieces. I can assure you, as I write this, I absolutely still have a wishlist of experiences and visits that would be great to have inside the headquarters. There are areas that I know about that I haven't seen yet, and I never get tired of coffee cuppings, roastings, or the chance to hear leadership speak. And much much much more.
Let's assume you find someone who will give you a tour of the headquarters, there is a ton to see. While this list isn't even close to complete, let me suggest a few things that could be part of your "SSC tour":
There is a lot more to see than just that inside the headquarters, but if nothing else, it gives you some ideas of what to see on your SSC tour, if you somehow manage to arrange one.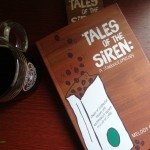 If you want to hear about some of my adventures with Starbucks, pick up a copy of Tales of the Siren. It's only $2.99 in the Kindle store!
In 2015, I might slightly slow down the pace of updating StarbucksMelody. I'm working on developing a personal blog too, though what I have right now is a Squarespace platform personal blog. It's likely I'll abandon that when I get a WordPress one established with a theme that I like. I could write an article on blogging now that I've done it for years! LOL
Related posts