New Starbucks Stores in Western Washington!
Melody, February 18, 2014
4
2 min

read
I thought I'd invite my readers to visit new Starbucks locations! One is in Tacoma, one in Lynnwood and the third is in North Bend. All of these cities are a short drive from Seattle.
LYNNWOOD: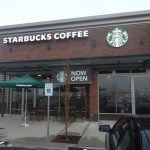 On January 24,2014, was the grand opening of a new Starbucks on the corner of Highway 99 and 196th in Lynnwood (store 19847). It's a drive thru store, and a pretty new location with an inviting cafe! The store manager is Heather.  I love the artistic rendering of the 1912 Pike Place Starbucks that is up high on the wall above the cold case. This store also has one of the newer "Wall of Chill" style cold case.
I hope you will drop by and visit!
TACOMA: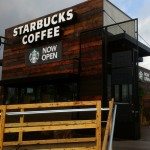 Tacoma, Washington opened a brand new Starbucks on January 6, 2014. This is a pre-fab modular drive-thru only location:
Starbucks store 19673
3401 South 23rd Street
Tacoma, Washington
(253) 272 0849
This prefab construction Starbucks is a beautiful store with a walk up window, but no patio seating. You'll find this store off Union Street and Highway 16.
NORTH BEND:
Lastly, I want to mention a new licensed Starbucks location in North Bend, Washington. This store's grand opening was February 14, 2014. You'll find it inside the Safeway at 460 S.W. Mt. Si Boulevard, North Bend, Washington. I've seen some licensed stores do an amazing job at living up to the Starbucks experience (and I've seen a few corporate stores that don't) and also look like they reflect modern Starbucks store design. (This licensed Starbucks opened one year ago is an example of one where the average customer might have trouble realizing it's licensed and not company operated.) My latte had perfect foam and tasted perfect!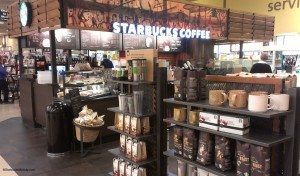 If you've been to any of these stores, let me know! I'm showing off just a variety of stores: a drive-thru only store, a new cafe with a drive thru, and a licensed store. Which design to you like best? As always, you're invited to continue the conversation in the comments below.
Related posts