Featured Clover Starbucks: Highlands Ranch, Colorado (Drive-Thru store)
Melody, October 1, 2012
10
5 min

read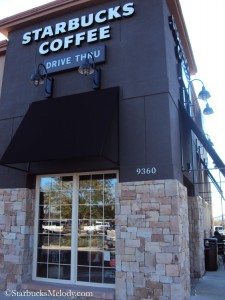 I dropped by the Highlands Ranch, Colorado Clover drive-thru Starbucks this past Saturday, the 29th.  For a long time, I've been very curious about the idea of a Clover in a drive thru location.  I heard that there is an existing drive thru Clover in Nashville already.  This store in Highlands Ranch is one of just a tiny number of  drive-thru Starbucks stores with a Clover.
Several weeks ago, one of my blog's regular readers sent me a message, through the blog's Facebook page.  It was just a short message.  He said that he's a partner at a newly-opening Starbucks with a Clover and a drive-thru, and would I 'come for a visit and see it?'  (That's not really verbatim, but that was the gist of it.)  I thought, 'Why not?  Denver is not a long flight.'  That partner is Brett Wikoff, and I had the chance to meet him at this beautiful Highlands Ranch Starbucks.  This made my whole trip.  He's so passionate about Starbucks.  I really did take this trip because of Brett's short message (and further conversation with him).  I sat down and talked with him for a few minutes in the store (he was working so we didn't have long), and I loved how knowledgeable he is!  Turns out, he's been an avid reader of this blog for a while.  He gave me a pound of  his "Rocky Mountain Blend" of coffee, and wouldn't tell me which Starbucks coffees were in it!  I was privileged to spend a little time with him.  There are actually many reasons to have a blog (and, I know, at times it reads a bit like a journal of my day), but one thing that keeps my internal passion-bank full is connecting with great people all over the country.
If you want to visit this store, here's the address:
Starbucks store 6339
9360 South University Blvd.
Highlands Ranch, Colorado 80126
(720) 348 – 1026
I should clarify a little history about this store.  The original grand opening date for this Highlands Ranch Starbucks was October 2, 2000 – Happy 12th birthday tomorrow the 2nd!!
Originally, this store opened as a much smaller cafe-only location at 9563 S. University Boulevard, which is just across the street from this current location.  And then on September 14, 2012, it re-opened in this new site complete with a drive-thru and a Clover.
When I arrived, the store was packed.  It was in the middle of their morning rush.  Actually, I felt stressed out just watching their morning rush.  I should have taken a photo of the long line of cups.  Right now the store is temporarily operating on one Mastrena espresso machine for the drive-thru, and one for the lobby, but it's very clear that the lobby needs two espresso machines.  As I understand it, one more will be installed shortly, but as the store had only recently re-opened, it wasn't in yet.
I also waited patiently for the right timing to take pictures.  I eventually realized that this store would never empty out while I was visiting.  Sorry that there are so many customers in the pictures.  I never got a photo of the community table because there were people with laptops on it the entire time I was there.  It does have a fireplace!  I love a fireplace in a Starbucks!
Here's the fireplace: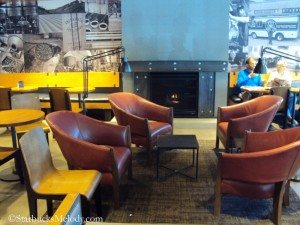 I also noticed the unique woodwork encasing the bar area of the store.  At a quick glance, it looks momentarily like brick because of the positioning of the pieces of wood, but it is actually locally reclaimed wood from the Rocky Mountain region.  Apparently, it is Pine that had to be salvaged due to "beetle kill."  Have a look:
The store was also designed with a tall circular table near the Clover area.  Those who have been avid readers of my blog know that that is a common Starbucks Clover store design feature.  It's intended to function as a  coffee tasting/ coffee cupping table intentionally within close proximity of the Clover:
I enjoyed some Sun-Dried Sumatra from the Clover, and chatted for a while with barista Brett W., the store manager (Greg), and the district manager (Bill C.).   The morning rush did eventually die down while I was there.  I was very curious about how the store deals with Clover orders in the drive-thru.  Apparently, so far the partners are only really promoting the Clover to the lobby customers, and they're still working on a lot of coffee/Clover education.  The Clover is fairly new to this market, and I think a number of customers are still discovering what it is.
I really like the little touches in this store.  If you look carefully at the photo with the circular table, you'll notice that there are curtains creating almost an entryway at the door, and you'll notice that the windows have some sort of half-shades – definitely atypical for a Starbucks.  I think store design really put a lot of thought and care into this store.
Here's a few more pictures.  Hope you enjoyed this Clover Starbucks store episode.   If you want to browse more Starbucks store reviews (not all are Clovers) click through the store reviews category on this site.
Related posts