It's time for another round of Starbucks stories told via pictures I've Instagramed (or not) over the past month or so. I know a lot of people don't see my Instagram feed so I thought I'd pull out a few best and tell their stores. Grab your coffee.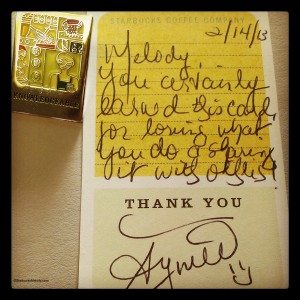 I've earned my first pin for my green apron! Okay, so I don't wear a green apron, all the more reason I'm pretty touched to have earned such a pin. This is the Knowledgeable pin. It arrived in the mail from a regular reader, along with a few other items. My eyes wanted to get a little watery at the sight of it. I had to Instagram it. It's so very thoughtful. Thank you Starbucks partner Aymee.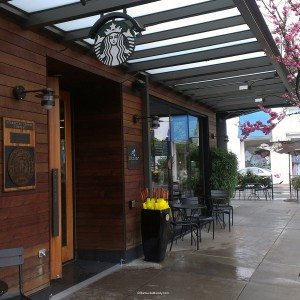 I took this photo of the University Village (store 302) Starbucks on Saturday the 22nd. I ordered a Clover cup of coffee and then headed out. It was a prefect quick trip in and out. As I was outside the store, I was reminded that it too is a pretty store front. A customer had just walked in when I snapped the pic, which is why the door is ajar. And I liked the cherry blossoms peeking in on the edge of the photo. I didn't Instagram it, but instead ended up using it in a Facebook status update.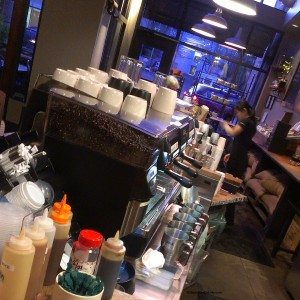 I was visiting the Starbucks at 328 – 15th East, and a quiet moment, leaned into the beverage handoff area a bit and snapped this pic. It was dusky and a barista was doing something at the register area. Something about this photo charms me. If you ever get the chance to visit this store, you'll find it incredibly unique and charming. And your beverage will be perfect, with shots pulled from a Nuova Simonelli.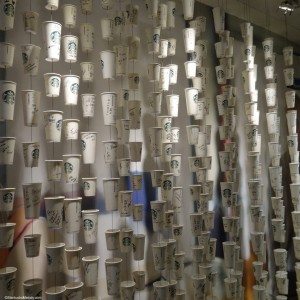 This photo of cups requires some explanation.
This wall of cups is currently found deep inside the Starbucks headquarters. Let's go back in time to March 2011. Starbucks celebrated its fortieth anniversary. Starbucks launched an all-new coffee called Tribute Blend. The logo got a refreshed look in 2011. The Starbucks global month of service (each April) had its big kick off in April 2011. The book Onward by Howard Schultz was published during this same time frame. Indeed, 2011 was quite a year for Starbucks. March 8, 2011, could be regarded as the kick off day for these 40th anniversary events. In front of a small group of spectators, Howard Schultz rang the Nasdaq bell very early at Pike Place Market that morning. Early afternoon that same day, a large second public rally took place in front of the Starbucks headquarters. Howard Schultz gave a speech, rang the closing Nasdaq bell, and profusely thanked partners for all that they do. The rally came to end and the crowd in front of the parking lot thinned to a small number. I was with an SSC partner (Marianne D.) who had made sure that I got invites for many of these fun events of 2011. To this day, I am deeply in debt to Marianne D. for making sure I was never forgotten in all the excitement! She was my official point of contact with the headquarters back then. (As partners transitioned to different SSC positions, this required that I've been assigned a new official point of contact person for the headquarters. Trust me, I appreciate this and recognize this is a really special thing as a customer!) Turning back to the March 8th events, after the afternoon rally Marianne guided me to a group of roughly ten pre-selected customers for the "Brand Days" tour. Starbucks had wiped out a portion of their parking garage and set up a walking tour of temporary museum of their brand.
We walked through numerous rooms (in actuality, partitioned areas of the garage) that featured things like a look at store design, products from all over the world, a look at Starbucks social media, and so on. I thought one of the most interesting rooms displayed large table covered with roughly thirty sheets of loose paper scattered over it. Each paper showed an internal Starbucks logo design that was rejected, as the Starbucks creative design team worked to pick the final one that we all know now on the current cup. It was wild to see the rejects: the Siren in profile or the Siren with wild hair. It was a creative logo out pouring.
As we walked the tour, there was a strict no photography rule. All I have is my own recollections – as best as I can muster – of this event. The final room had a wall of white cups hanging as you see in the photo above. There were plenty of Sharpie pens available, and each cup was to be signed by a partner as they symbolically pledged their promise to keep the Starbucks brand. Don't be a bystander. You are the brand. In Howard Schultz's own words:
"I ask you individually and collectively, as I did in New Orleans, to understand what it means to take the work personally and to be responsible. And when you see something that you know is inconsistent with the quality and the excellence of the heritage of this company, don't be a bystander. You have a voice. It doesn't matter who you are in the company and how long you have worked here: you are a Starbucks partner. You have a voice. And we need everyone's commitment, and everyone's voice to continue to succeed at the level we have achieved over the last few years. And I promise that what I am asking of you, I am asking of myself in the exact same way. That we will continue to work together to build the kind of company that you and your family will be extremely proud of in the future years to come."
I did not sign a cup. In a moment of clarity, I realized that this Brand Days tour was intended for partners, not customers. I saw that there were only so many cups that would end up hanging along a wall. The Brand Days tour was available for several months in 2011, and then finally Starbucks tore it down. The wall of cups at some point was transferred to where it currently hangs, as shown above in the photo, inside the Starbucks headquarters. Again, I am enormously thankful to the SSC partner who invited me to be included in these events.
By the way, I've mentioned that I am working on a book. The working title is Tales of the Siren: A StarbucksMelody. There are stories of things I've experienced that have never made it into the blog, and I hope to capture a few of these stories in this future book.
That is the story of the wall of cups at the SSC: Don't be a bystander.
(Geez. I hope I've got this right! I suppose that there might be some SSC partners with a different understanding of the wall of cups, but I think I got it right.)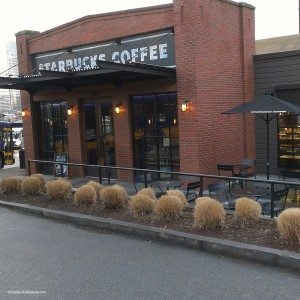 One Tuesday morning in February, I darted into the Olive Way Starbucks before work. I snapped this photo and Instagramed it. While inside, I quickly showed this photo to the partner on bar. He replied to me, "Our store is ridiculously photogenic!" as he smiled at me. I love that description. It's quite true. East Olive Way Starbucks is ridiculously photogenic. If you want to follow this store on Facebook, their page is here. They do regular coffee education seminars, so if you ever decide to attend, you may see me there.
When I started writing this, I had no idea it would be so long. Thanks for reading as always, and hope to see your comments below.
Melody
Related posts