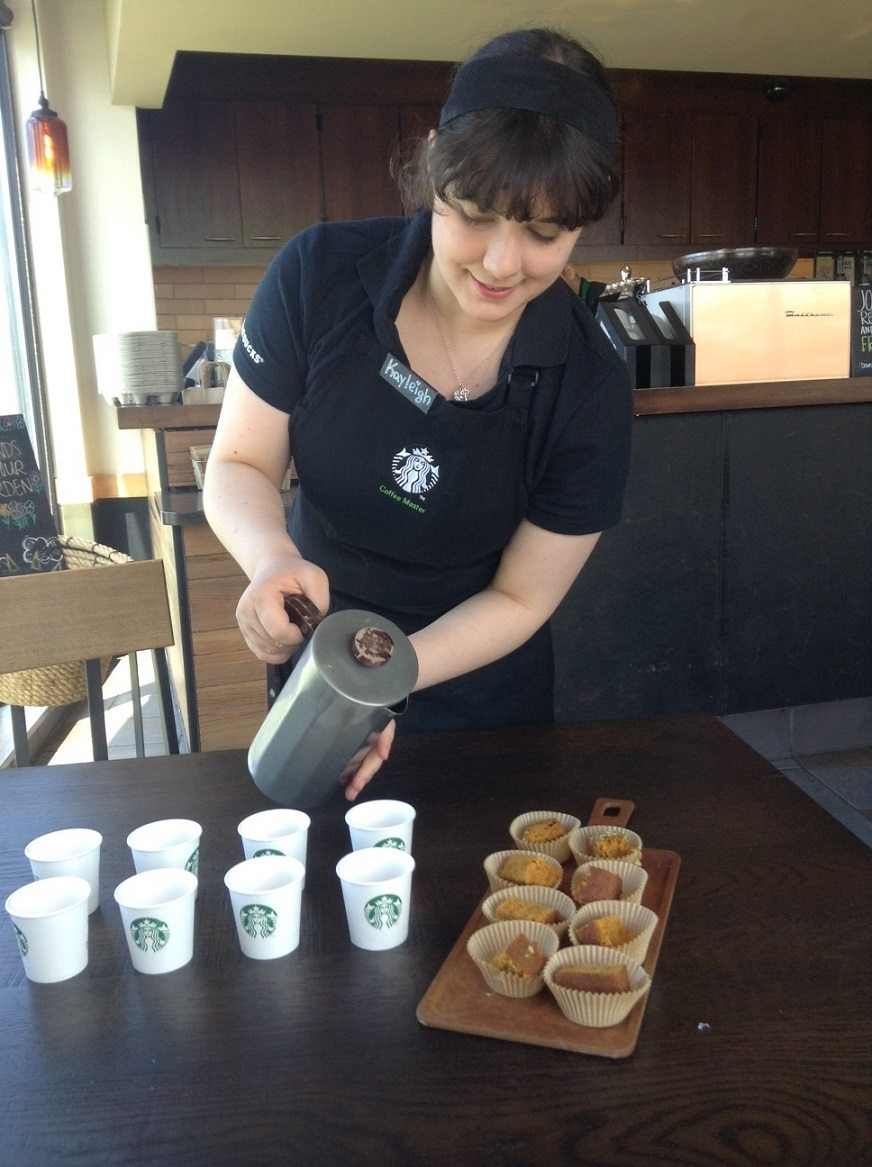 Partner Profile: Kayleigh Lascio
Melody, June 16, 2016
0
5 min

read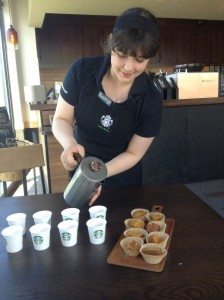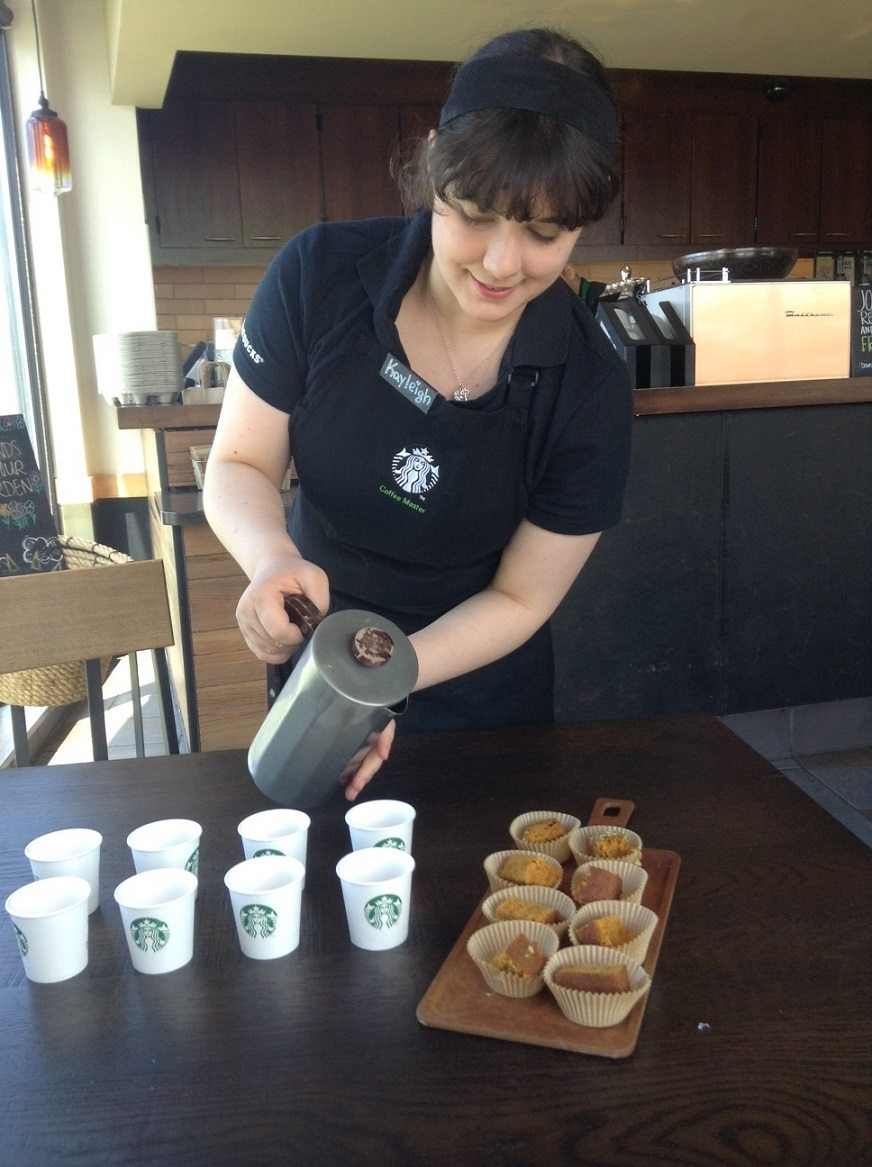 Starbucks partners are the secret sauce of the entire business. Starbucks' own research shows that the connection between the partner and customer keeps customers come back over and over again. There are something like 200,000 Starbucks partners who put on the green apron every day. Of course, lots of them at different stages of their Starbucks journey.
Some partners (Starbucks calls their employees, 'partners') have that magic. I always love putting a spotlight on the extraordinary partners out there.
A reader (Rachel C.) of this website connected with a black apron Starbucks partner in Mentor, Ohio, and submitted her own interview of this extraordinary partner: Kayleigh Lascio. Thank you Rachel for the guest article!
******
Kayleigh Lascio has been a Starbucks partner for 3 years and 11 months. She will celebrate 4 years on July 10th.
Kayleigh's Starbucks manager, Kara Selle, says, "As a barista Kayleigh exemplifies going above and beyond for her customers every single shift she works through her customer connections. Her passion for coffee, customers and our partners makes her an invaluable partner. She is a joy to work with on the floor and never says "I can't" to any task given to her. I am so proud of her development and grateful of her dedication to Starbucks. We are lucky to call her a Mentor West partner. "
What's your favorite coffee?
When I asked what her favorite coffee is Kayleigh says her all- time favorite is Guatemala Casi Cielo but her mainstay coffee is Sumatra. Guatemala Casi Cielo is a seasonal medium roast coffee and Sumatra is a dark roast coffee. However when it comes to a cold drink, her preference is an iced vanilla latte.
Do you have a favorite coffee journey story from career?
I asked Kayleigh about her coffee journey and if she has any favorite coffee stories. She shared she has always been fascinated by coffee, its history and culture. Drinking coffee has always provided enjoyment and drove her to about coffee and brewing it. The experience of discovering all the wonderful things that makes coffee so special for so many people has come from working at Starbucks. Kayleigh said when she became a partner at Starbucks she was thrilled because Starbucks is truly a coffee company at its core. The longer she has worked at Starbucks she has learned much more than she ever imagined and realized the importance of connecting with people each day. A very real passion has grown within her and also a genuine love for what she does in her job.
Achievements:
Coffee Master 2015
Partner of the Quarter (First Quarter of 2015)
2015 Barista Championship came in 2nd place in the District
Member of Specialty Coffee Association of America (SCAA)
Certified Barista Trainer
Coffee tasting as a coffee master.
Last year she did a seminar with other coffee masters at a local library and it attracted a full house.
Kayleigh will begin finishing a Bachelor's degree in communications through the Starbucks Coffee Company college program in Fall, 2016, (The College Achievement Plan.)
What stands you apart from other baristas?
Kayleigh shared she thinks she stands apart from other baristas because she always tries to bring a warm and happy atmosphere when serving her customers and partners a like. She tries to always be energetic and comes to work with a smile. All of her customers know her by name and she attempts to remember all her regular customers' names. Kayleigh related that her customers have begun to feel like family to her. A fellow barista that works with her, Paul Smalley, says, "Kayleigh's knowledge of coffee and drink recipes shows her experience."
What life lessons has working at Starbucks given you?
The life lessons Kayleigh feels she has attained from working for Starbucks are more confidence in herself and ease in her ability of interacting with people. She shared with me there are many things that coffee is one of the many ways that humanity can share and connect together; and Kayleigh's is sharing her love of coffee with others. This has made her happy and has brought her closer to the wonderful things we all have in common.
Kayleigh is an exceptional partner!
She's at the Mentor West Starbucks:
7681 Mentor Avenue
Mentor, Ohio 44060
If you happen to be in the area on June 22, 2016, you can wish the store a happy 15th birthday! That Starbucks opened brand new on June 22, 2001. (I got that information from the Starbucks headquarters.)
Happy 15th birthday Mentor West Starbucks! (On June 22nd)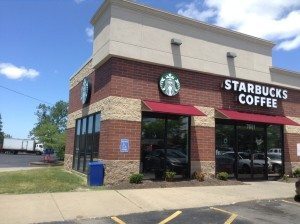 It's possible that there are a few Starbucks partners reading this and who are feeling alarm about this article. Don't worry. (I have no idea why people worry about what others do. You can only control yourself).
To a minor degree, I don't care if I personally irk Starbucks. I don't work for them and they don't own this site. However, I do take care not to get partners in trouble (and sometimes that means you never tell your sources of information! LOL). In this case, this article was reviewed by Starbucks Media Relations partner Erin Shane before being published. If you send me the profile of a partner who has done something great: maybe a community service event, maybe the story of that person's career with Starbucks, I'll do the leg work with media relations. That's not something you have to do.
Related posts