Today is Pike Place Roast Day.
Melody, April 8, 2014
8
3 min

read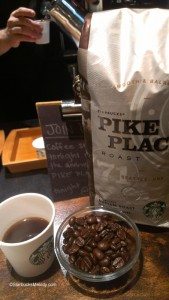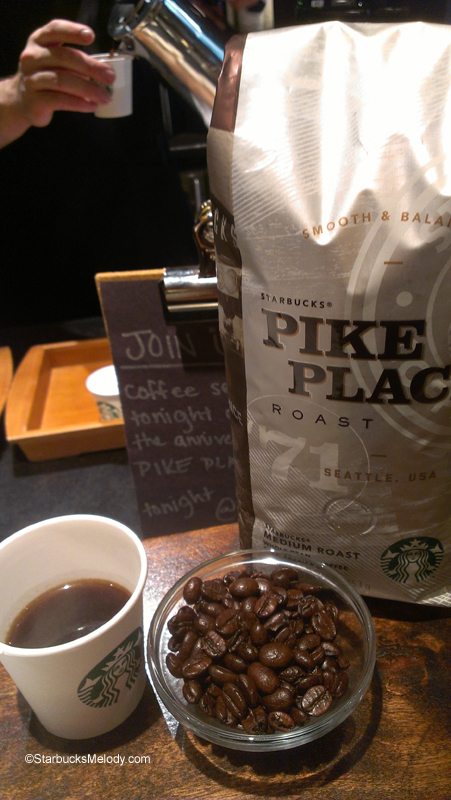 Today is Pike Place Roast Day.
Six years ago today, Starbucks introduced Pike Place Roast into their coffee lineup. In honor of Pike Place Roast Day, I asked Coffee Master Jordan if he would use Pike Place Roast for an East Olive Way coffee tasting. He was happy to do so. We tried this coffee and Pike Place Special Reserve made via a French Press and compared it to Clover-brewed versions of the two coffees.
Pike Place Special Reserve is a different coffee than Pike Place Roast. The Pike Place Special Reserve is sold exclusively in two stores: First and Pike Starbucks and 1912 Pike Place. It's Reserve for the two Starbucks at the Market. (First and Pike is right at the entrance of the Market). Here's what the Pike Place Special Reserve packaging looks like (note, the brown bag is the exterior packaging. It's a bag inside a bag.)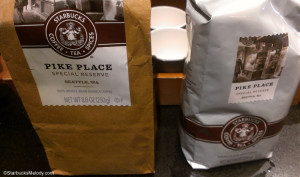 Pike Place Special Reserve is roasted darker than Pike Place Roast. You can see it when you compare the beans side by side.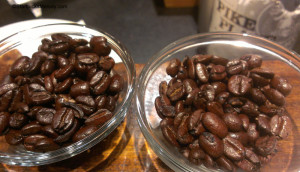 Jordan and Marlene presented tonight's coffee tasting. They walked us through the four steps of a coffee tasting: Smell, Slurp, Locate (the flavors on your tongue), and Describe. At one point, I got a fun picture of the two of them smelling the coffee: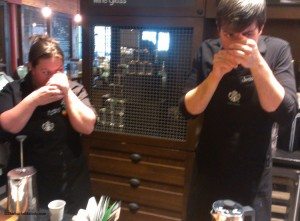 We paired the Pike Place Special Reserve with the La Boulange chocolate croissant. This was a great pairing and the chocolate in the croissant brought out the dark chocolate flavors in the Pike Place Special Reserve coffee. The Pike Place Roast (the everyday brew) was paired with the La Boulange Classic Coffee Cake. The Classic Coffee Cake was delicious with the Pike Place Roast, as it brought out lots of cinnamon flavor notes.
I really liked the Clover version of each of the two coffees. I'm always amazed at the stark difference in sediment between Clover brewed and French pressed. Can you tell which is which here?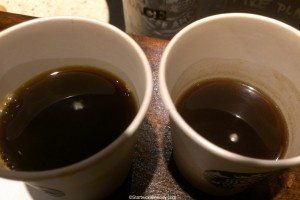 I appreciate Jordan doing Pike Place Roast for the coffee event. I wanted to write more and put in more photos but I'm having some WordPress problems.
Here's the short version of story behind Pike Place Roast:
April 8, 2008, Pike Place Roast was launched into the Starbucks coffee lineup. The coffee masters at the headquarters wanted to develop an "Everyday Brew" to be served all day, everyday in stores. Starbucks Coffee Masters know that flavor is a geography: A motto that used to hang on the whole bean menu signboard in the 1990s era of Starbucks. But for customers who didn't understand how growing regions and processing methods can change the coffee flavor, the ever-rotating flavor profiles in stores confused them. It was an unsettling surprise to one week drink a bold, caramelly coffee, and then next week drink a coffee that was lighter in flavor with lemony or fruity flavor profile notes.
Some customer's thought, "Starbucks is messing with my coffee." And so six years ago today, with great historic fanfare in Bryant Park in NYC and on the red bricks in front of 1912 Pike Place, Pike Place Roast was introduced into the world. Then-Seattle Mayor Greg Nickels dubbed April 8, 2008, "Pike Place Roast Day" in Seattle. Howard Schultz proudly introduced the new coffee to the world.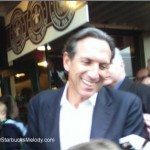 Starbucks made history with a coffee! I was there on launch day at Pike Place Market and snapped this photo of Howard just after he finished his speech about the all-new coffee.
Please share and enjoy.
Related posts