Mother's Day is May 11th this year! If you want to give your mom a Starbucks Mother's Day card, they're available now at participating Starbucks stores everywhere. You'll also find a teacher appreciation card, a 2014 card for graduates, and the Mother's Day special card.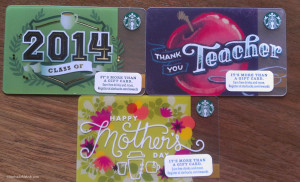 Father's Day is June 15th this year. Starting on May 13, 2014, you'll be able to find this year's Father's Day Starbucks card at your local participating store. I thought I'd give you a sneak peek now at the new card, but don't expect to see this card in stores before May 13th. It has display dates from May 13th through June 16th, 2014.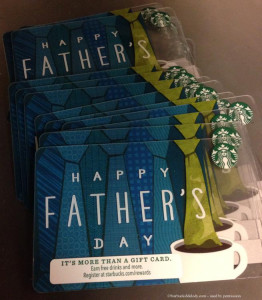 As always, don't forget that you can register a Starbucks card (loaded with money on it), and unlock the door to MyStarbucksRewards. Each time you use a Starbucks card to make a purchase at Starbucks, you'll earn one star. Your stars accumulate, and when you reach 30 stars in one year, you're at the Gold Level. But there are rewards before Gold Level. The free refill perk starts at the Green Level, which is only five stars. Also keep in mind, you unlock the door to rewards and can earn and redeem all your rewards with ANY Starbucks card. There is never a requirement to switch to a shiny gold card. Just find the card with your favorite design on it, and use it. It doesn't matter if that's an Evolution Fresh Card, a Seattle Sounders Card, the City Nights Card (First and Pike Starbucks), a Teavana Card,  a limited edition Stainless Steel Card, a Starbucks card made from wood, a white sparkle card, or any other card you can get your hands on. At this point, there are thousands of card designs that all swipe and work as a Starbucks card.
Enjoy!
Related posts