Starbucks launches new collectible destination cards.
Melody, June 13, 2012
26
2 min

read
Starbucks recently has added a few more cards to the series of "destination" cards.  These cards feature a city or state, and are only available in select regions.  Usually, Starbucks only produces a limited number of these and so they're highly collectible also.
In May 2011, Starbucks launched a limited number of these cards including Florida, New York City, Vancouver, Chicago, Hawaii, San Francisco, and Seattle.  If you want to collect those cards from the May 2011 series, you'll likely need to find them on eBay.
Here's the official blog post on the May 2011 destination cards:  Keep Your Travel Memories in Your Wallet.
One year later, in May 2012, Starbucks launched the second round of destination cards with new images, and refreshed looks.  Once again, Starbucks has produced only a limited number of these cards.  So if you see one of these cards in a store, you should grab it now before they are gone!
The 2012 destination cards are as follows:
Washington D.C.
Florida
Texas
San Diego
Los Angeles
New York City
San Francisco
I've heard that the Texas card is the most popular, and it definitely is a very fun looking card!  I like the cowboy boots on it!  I'm partial to the San Francisco card, having lived briefly in that city  a while back.  I've walked past the "Seven Sisters" houses many times, near Alamo Square, which are now featured on the 2012 San Francisco card.  Here's the official 2012 destination card Starbucks article:
New Starbucks Cards in New Cities.
Here are the new cards!  Get them while you can!  Which one is your favorite?
Thank you so much to my readers who sent me cards. Much appreciated!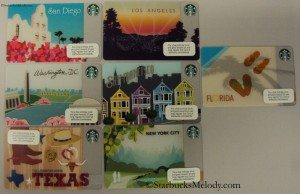 By the way, don't forget that if you're looking for collectible Starbucks cards, the Evolution Fresh card is collectible too.
This is an open thread.  I'll be slowing down on blog content for about a week or so, as I am swamped and heading on a short trip out of town too.  Please keep reading!  If you've missed old articles, you can find interesting old articles by searching the "archive," or using the "categories" tab.  Please don't forget that I love tips about test beverages and products.  You can reach me with the "contact me" form.
Related posts