New Fall Starbucks Card (Open thread)
Melody, September 2, 2011
64
1 min

read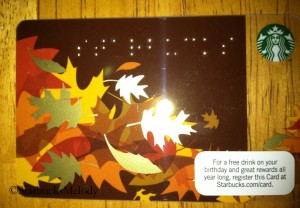 This is very cool.  For the fall launch this year, Starbucks is offering a card with braille on it!  The card is available on September 6, 2011, and it is a promotional offering only.  I'm thoroughly impressed with how many creative ideas that Starbucks comes up with for their cards.  I have a small collection of them and I love it.  If you want to see my previous blog post on Starbucks cards, here it is:
I hope you enjoy the new card.
***
***
On a separate topic, now and then people click the "contact me" tab on this site and send me emails.  Recently, I received an email from a reader who wondered whether Starbucks is still selling retail mocha powder:
Hi Melody,
I'm hoping you can help me find out what's happening with the Mocha Powder! It's disappeared from the stores near me in Indiana. It's unavailable on the Starbucks store website. I'm almost out and make mochas at home daily. I've asked at a store or two and the baristas have no idea what's going on either. Help!
Does anyone know the answer to her question?  I have to admit I have not been paying close attention to retail mocha powder, so I haven't noticed if it's coming or going, so to speak.  If anyone has the official answer, I'd appreciate it.
For all the U.S. readers, hope you have a splendid Labor Day weekend!
~Melody
Related posts