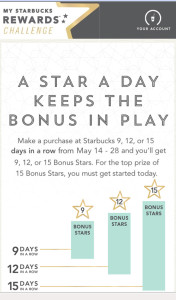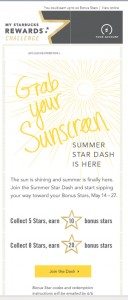 MyStarbucksRewards members will periodically receive "dash" promotions from Starbucks. The hallmark of these promotions is that a customer is enticed to visit Starbucks a number of times, and then rewarded with bonus stars at the end of the promotion.
One thing that's particularly interesting about these Star Dash promotions is that not every MyStarbucksRewards member will receive them. On top of that, Starbucks uses what they call "one to one" marketing, meaning that the dash promotion you receive may be unlike the one that your friends get. I think it's kind of interesting to see the many variations on these promos.
Just this week, many people received their summer Starbucks Dash email invitation to join. Now is the time to log into Starbucks.com to see if you have a Star Dash opportunity!
Attached are images of a couple of Star Dash invitations that readers of this blog got this week. Did you get one? What was yours like?
Enjoy your dash! Hope you make it to your bonus stars!
Related posts