Anyone who's been reading this website for a while knows that I genuinely love a good coffee tasting. I thought I'd share a few different events that I've been to recently.
On April 26, 2014, at the Seventh and Pike Starbucks, Coffee Master Soo explained the four reasons why Starbucks coffee tastes great. I thought his presentation was really great. He explained that customers often ask him, "Why doesn't my coffee at home taste like the Starbucks coffee in the stores?"  To answer that, Soo explained the four "R"easons why (which are really the Starbucks four fundamentals of a great cup of coffee): fReshness, gRind, pRoportion, and wateR. Now you have an easy way to remember the four fundamentals of a great cup of coffee.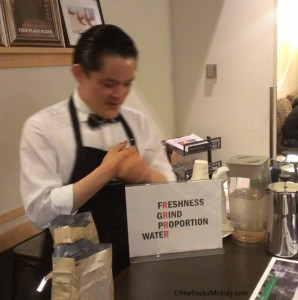 During this coffee tasting, Soo answered customer questions about how quickly coffee should be used, once the bag is opened. Use an opened bag of coffee within seven days from the date you opened it.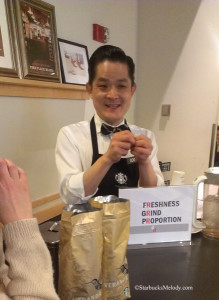 On April 27, 2014, at the Sixth and Union Starbucks, Coffee Master Aaron also walked customers through a tasting of Veranda prepared via a French press. Aaron did a great job of explaining how to make the perfect cup of coffee!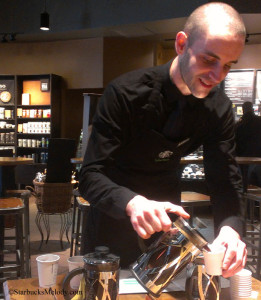 And then on May 5, 2014, Coffee Master Jordan at the East Olive Way Starbucks compared Guatemala Antigua prepared by several brew methods, and paired it with the chocolate croissant. This Starbucks is located at 1600 East Olive Way, Seattle, WA, 98102, and the phone number is 206 – 568 – 5185. I hope you'll join me at a coffee tasting at this store! There are regular coffee tastings every other Monday night at 6:00 PM, and they're open to the public and free. I always suggest calling ahead to double check their schedule.
It's always the case, in my experience, that the French press gives you the roundest body, and a big bold flavor. Guatemala Antigua is a core coffee – it's squarely a medium roast, medium body coffee. It's kind of an under-rated gem in the lineup. Whether you have it via the Clover (which may bring out more of the acidity) or whether you make it drip-brewed at home with a paper filter, it's always an enjoyable coffee with lots of cocoa notes and a clean finish.
Come join in at an East Olive Way coffee tasting! Hope to see you at the next one, on Monday, May 19th.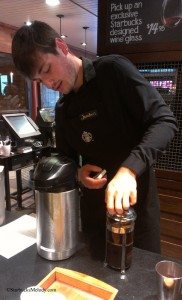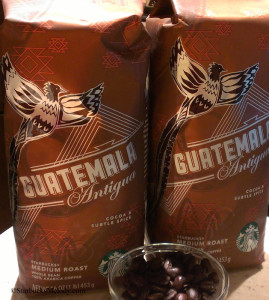 Last but not least, I happen to drop by the Kelso Starbucks not too long ago and noticed this sign on the store's community board. It's a listing of planned coffee events at area Starbucks in southwest Washington. Some of the events are still coming up this summer. I thought you might like to join one, if you happen to be in the area: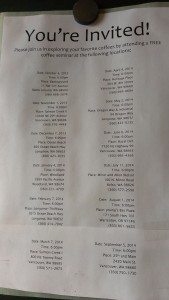 Hope you enjoyed this look at fun coffee events!
Related posts