Starbucks Evenings locations now have new food offerings. The chocolate fondue is gone, but instead now there are little mini chocolate truffles. Starbucks has added a grilled vegetable plates, as well as a chicken sausage and mushroom flatbread.
The chicken sausage flatbread tastes a lot like a little pizza!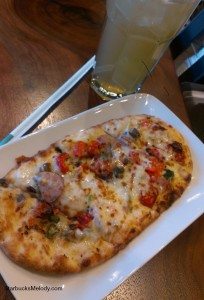 The picture doesn't do it justice. This is a delicious little flatbread. I'm embarrassed to say that I can eat two of them! (Though I don't recommend that you eat two of them – you'll be stuffed!) This new flatbread has chopped mushrooms, a little cheese, and oven-roasted tomatoes. It even sounds like a mini pizza.
The Evenings Starbucks now offer a grilled vegetable plate with a lemon aioli sauce. The portion of sauce is quite generous. You might not use all of it. Ask for a fork with this item. I've notice that some baristas will hand it to you without a fork – the artichoke hearts don't work as a finger food. I love the mini sweet peppers. This is delicious too: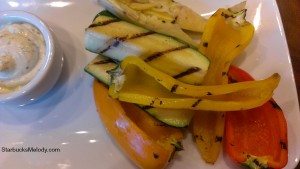 The Starbucks Evenings stores have their own special twist on popcorn. You can get it warmed with a dusting of truffle salt throughout. It's remarkably addictive. On a number of occasions, I devoured this. Always floss after popcorn! 😉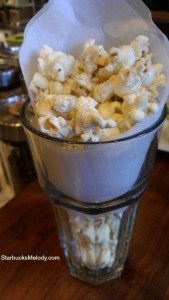 Last but not least, I want to highlight the new mini chocolates. They come in three varieties: Champagne Truffle Chocolates, Espresso Chocolate, and Raspberry Chocolate. I think I might like the Espresso Truffle best but the jury is still deliberating.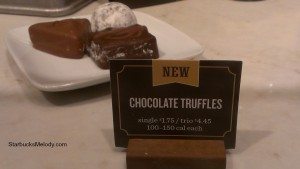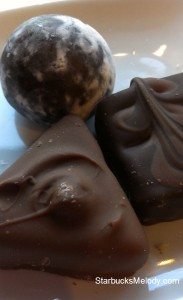 Hope you enjoyed this look at the new food at the Evenings Starbucks stores. Let me know what you've tried or your thoughts on the new food. Thank you to University Village 3, where I took all the photos this evening. (A Starbucks Evenings store is one that offers beer, wine, and unique foods).
Related posts