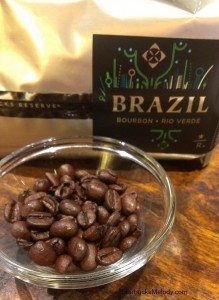 There is a new Starbucks Reserve coffee now available in stores! I went to a coffee tasting at the East Olive Way Starbucks last night and had the chance to try this new coffee. This is an outstanding new Reserve. It's so smooth and creamy. I bought a bag of it while I was there, and I will be ordering this in the stores! We had the Brazil Bourbon Clover brewed, which surprised me how round and full-bodied it came out. As many know, the Clover sometimes brings out the acidity in coffee.
Coffee Master Megan paired the Brazil Bourbon with plums and the new Espresso Chocolates. The new Espresso Chocolates are part of the food menu exclusive to the Evenings Starbucks stores. I really enjoyed the new Brazil Bourbon Rio Verde with the chocolate. The milk chocolatey deliciousness of the mini truffle chocolate paired perfectly with the chocolate flavor to the Brazil coffee. At tonight's coffee tasting, several other participants said they got some of the juiciness from the coffee, but my own tasting was that the chocolate was the more predominate flavor note. I thought the plums were a little bit overwhelming to this coffee, though others loved how it brought out the Brazil's juicy notes.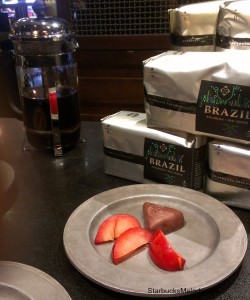 Megan did a great job with the event! Here are a few more pictures: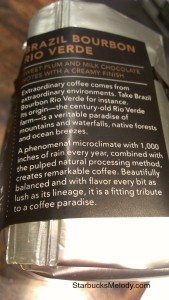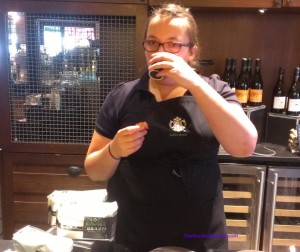 Please come join me at an East Olive Way coffee seminar! All are welcome. They're open to the public, free and held usually every other Monday at 6:00 PM.  Call ahead and confirm their schedule. This Starbucks is located at 1600 East Olive Way, Seattle,WA 98102. The phone number is 206 568 5185.
If you're looking for this Brazil Bourbon coffee, look for any Reserve – Clover Starbucks or visit StarbucksStore.com. Click here for the Starbucks Brazil Bourbon Rio Verde on StarbucksStore.com.
Related posts