Cute little mini Frappuccino Starbucks card is here!
Melody, May 19, 2014
14
2 min

read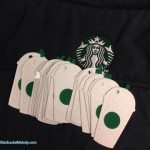 Be on the look out for an adorable new Starbucks card at your neighborhood store! I think this will be another good one for card collectors. There really haven't been all that many mini cards in the U.S.  Like other mini cards, this one has a hole in it for your keyring.
While I don't normally use mini cards, I do think this is too cute. Register any Starbucks card (loaded with money on it) and you can start earning rewards. You can register your card, and an image of it will show on your Starbucks mobile phone app. You can use ANY card to earn stars and redeem rewards. One of the ways that MyStarbucksRewards is flexible is that you're not locked into using one card. All of the rewards go by your profile at Starbucks.com/card. At just the Welcome Level of MyStarbucksRewards, you will get a free beverage on your birthday. (This doesn't mean you necessarily have to be at a Starbucks on your exact birthday. Register a card at least 30 days before your birthday. Use a registered card (with money on it) at least once at least 30 days before your birthday. Your birthday reward will appear on your Starbucks.com/card profile sometime during the week before your actual birthday. And like any other reward, you keep track of it yourself, and redeem it any time you like, before the reward expires. The rewards are digital and will expire about five weeks from when earned. (The Starbucks.com website says 30 days from when earned but I have noticed that for months now, it's been closer to five weeks.)
Starting May 23rd, you'll find a special 16-ounce re-usable cold tumbler in the stores. Buy this specially-marked tumbler, and get your first Frappuccino Blended Beverage in it on the house! The new Frappuccino tumbler will be available until supplies last: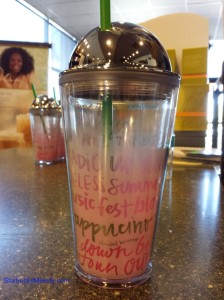 Look for the cute new card by the registers at your neighborhood participating Starbucks.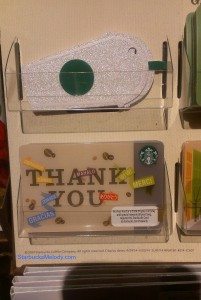 Related posts