The butter coffee tasting: Starbucks Anniversary Blend
Melody, September 13, 2011
36
3 min

read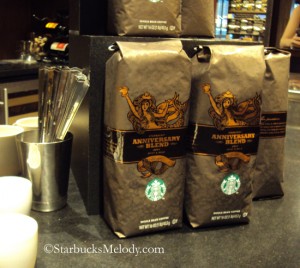 Mikey, aka "Mr. Opportunity*," hosted a fabulous coffee tasting at the Olive Way Starbucks tonight.  I attended, along with a large crowd of nearly a dozen people, some partners, some not.  Mikey made a couple of French presses of Anniversary Blend, and prepared a guided tasting note sheet.  We walked through the traditional four steps of a coffee tasting: 1) Aroma – what aromas do you smell? 2) Slurp – Taste the coffee with a big and loud slurp.  3) Locate – Describe where the flavor notes hit on the tongue.  4) Describe – Describe all the flavor notes, and body characteristics that you can identify.  By the way, Starbucks has offered Anniversary Blend every single year since 1996.
(*For those of you who do not know who Mikey is, please do this: Go to Starbucks.  Pause at the front door.  Look for the window cling that talks about "employment opportunity."  There he is!  Mikey, a partner here in Seattle, is famous as a window cling in 17,000 stores!).
Anniversary Blend has some aged Sumatra in it which provides a spicy characteristic to the coffee.  Most everyone in the crowd could quickly identify some spicy aroma, described a bit like baking spices such as nutmeg and cinnamon.  The Anniversary Blend has a lot of  its flavor in the back of the mouth, and it is complex with a very small amount of acidity on the sides of the mouth.  However, the major, more predominant tasting note was the spicy bold flavor with low acidity.
Mikey talked a lot about Anniversary Blend, and its unique characteristics.  Everyone listened intently!
Mikey had made a treat from home to pair with the coffee, and the treat was so delicious that it totally overpowered the coffee.  Suddenly the coffee seemed unimportant and I wondered how I could bring Mikey home to my kitchen.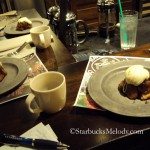 During this tasting, we also did a "butter" coffee tasting.  I have to say, I was not expecting this.  This was truly unique.  Apparently, as I understand it, Mikey learned from a friend of his (who had done some traveling in Bali, Sumatra, and Vietnam) that in some countries, it is common to drink coffee with butter.  Fresh milk can be more rare to come by than butter in many countries, and so I learned, very dark roast and bold coffees become extremely smooth and delicious with added butter.  Especially in Vietnam, it is considered normal to take butter in your coffee.
Mikey prepared a French press of Anniversary Blend, as usual.  In a second French press he had measured out roughly four tablespoons of butter.   He states that he had experimented a bit with this, and that this only will work with the "unsalted" varieties of butter.  After the coffee had brewed, he poured it into the second press, and stirred it a bit.  Then we all tried traditional "butter" coffee.  Here are pictures of the second press with the butter in it:
And not to be missed, here's Mikey pouring Anniversary Blend into the press with the butter: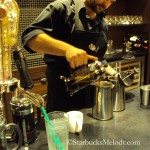 Butter adds a lot of new dimension to the coffee.  It still has some spicy notes, but it is brighter and smoother all at the same time.  The aroma is definitely buttery!  Of course, that is to be expected.  Mikey describes as that the "butter supports the body of the coffee."
I had cringed a bit at the thought of drinking a coffee with visible buttery oils forming in it, but much to my surprise, it was delicious.  Mikey was absolutely right that butter does work with Anniversary Blend.
This was such a unique and fabulous tasting.  Thank you Mikey and Olive Way Starbucks.  (If you want to follow tweets from Olive Way, follow the store manager's profile: GayleOnOlive.  And this tasting was held on September 12, 2011.)
Don't forget, Anniversary Blend is a limited offering, so this is the only time of year you can find it in stores.
Related posts