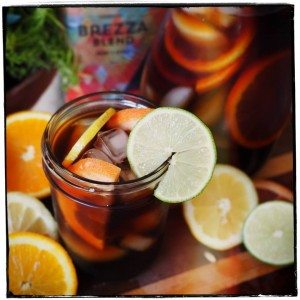 A reader of this site sent in her photos and recipe for Starbucks Brezza Blend made as a cold brew, sangria-like beverage (lots of fruit in it).  I haven't tried this but the pictures were so stunning and it sounded so delicious that I thought I would share her recipe here.
Starbucks Brezza Blend is a new summer seasonal coffee.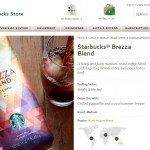 You can find Brezza Blend in Starbucks stores or at StarbucksStore.com.
To get started, here's what you will need:
125 grams of coarsely ground Brezza blend.
5 cups of filtered water
A large mason jar.
To get started:
Weigh out your coffee. (You want to weigh out the 125 grams as a whole bean coffee. Roughly about one and one-third cup of whole bean coffee.) Coarsely grind the coffee. Combine coffee and cold water into mason jar. Stir it to make sure that all of the grounds are saturated. Screw the lid on, and give it a good shake. Now place the jar on your counter (away from the sun) for 18 hours.
After the 18 hours is up, your coffee is ready. Next, strain the grounds from the coffee. Many people will want to use a paper filter to do this. Try using a Chemex paper filter or standard cone paper filter, as used with a Melitta brewer. Once the coffee is strained, add two cups of ice cubes and let the ice coffee rest. While your coffee is resting, you can start slicing your fruits.
The reader who sent me this recipe used heirloom navel oranges, ruby red grapefruits, Meyer lemons, and limes to garnish. Other fruits that would complement are blood oranges and raspberries. Traditionally, sangria is sweetened with honey or orange juice, so the recipe creator decided to make a Minneola tangelo simple syrup. A Minneola is a cross between a grapefruit and a tangerine, and has an incredible sweetness to it.
Minneola simple syrup
1 cup water
1 cup sugar
1 minneola
Dissolve the water and sugar together on the stove. Add the juice from the Minneola. You can shave the peel of the fruit and add it to the mixture for a little zest. Cook on a medium low heat for about 15 minutes, or until the mixture starts to thicken up. Pour into a squeeze bottle to cool.
Fill your sangria pitcher with ice, add the sliced fruit and then add the cold brew coffee. Let steep for about 5 minutes before serving. Sweeten to your taste. For added fun, garnish each glass with lime slices or fresh grapefruit segments.
Enjoy!
(As with every blog post, do not re-use photos or content without permission).
Related posts