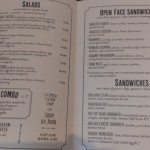 Recently, I dropped by a La Boulange café (owned and operated by Starbucks). Most customers have seen La Boulange treats inside of Starbucks, but I thought it would be fun to see the home of all its inspiration and an actual La Boulange Café. I dropped by the café at 151 University Avenue, in Palo Alto, California on May 25, 2014.
And La Boulange has recently been in the news as Starbucks has announced plans to expand the La Boulange Café concept into a dinner concept offering burgers. There's already an Instagram profile for the La Boulange Cafe and you can see pictures of the burgers they'll be serving. It made me very hungry just looking at them! (It also made me sad that we won't have these in Seattle. We could at least use an In-N-Out Burger in Seattle, pretty please.) What do you think of their expanded cafe concept?
The actual La Boulange cafes sell an amazing variety of bakery items, breakfast and lunch foods, as well as even La Boulange potato chips and dish towels! One partner mentioned to me that the Macaron cookies are her favorites and ever-popular.
I arrived late morning and so I opted for a breakfast item – French toast. My French toast came with Vermont maple syrup and a side of fresh fruit too. The French toast was very light and fluffy and a delicious breakfast. After I finished breakfast, I stocked up on cookies and La Boulange jam to take home with me to Seattle. There is a La Boulange card which can be registered and used as a Starbucks card, but they were out when I arrived. My understanding is that there are currently two designs of La Boulange cards. One is solid blue with the word La Boulange on it: the blue one does NOT have the ability to be registered as a Starbucks card. There's one that is orange with the word La Boulange on it, and I think that one does have the ability to be registered as a Starbucks card. I know the blue ones don't because I got one, tried to register it, and discovered that it's not compatible with Starbucks.
One more interesting thing is that La Boulange seems to have their own grant foundation, giving money to non-profit organizations within any neighborhood with a La Boulange Cafe. I included an image of the La Boulange Community Grants too.
You can follow La Boulange on Twitter here.
I took all the photos below on Sunday, May 25, 2014. As always, do not use without permission.
Related posts