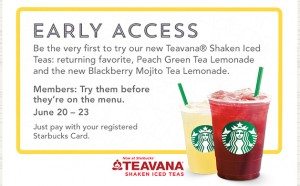 New drinks are here at Starbucks! Well, in fact, almost here. Beginning on June 24, 2014, Starbucks will launch two new national summer beverages: The Shaken Iced Peach Green Tea and the Blackberry Mojito Tea Lemonade. Starbucks now offers Teavana Iced Teas in all their United States locations.  If you're in a "sunbelt region," which is extends from Southern California to Florida, across the southern part of the U.S., you'll get the chance to try the Starbucks handcrafted sodas: Ginger Ale, Spiced Root Beer, and Lemon Ale.
Click here for the official link on the Starbucks handcrafted sodas, using the Fizzio carbonator machine.
You can try these new drinks early, if you are a member of MyStarbucksRewards. Just use your registered card to pay for your drink. In case you need more information about rewards, here's my quick summary article on the rewards. For more information, contact Starbucks Customer Service. Your card can be at any level. You do not have to present a gold card to try these beverages early. In fact, all of your rewards are associated with your profile on Starbucks.com/card, and not in the actual card itself. When any card registered your account (loaded with money on it) is swiped at the register, it accesses all of the perks for your specific MyStarbucksRewards rewards level: Welcome, Green, or Gold.
Early access for the new drinks is June 20th through the 23rd.
So pull out your Starbucks card and enjoy the new beverages! Blackberry Mojito, here I come!
Related posts