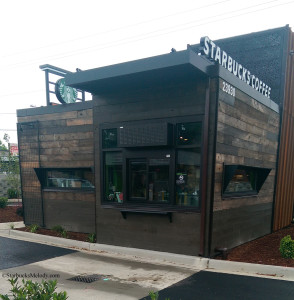 Starbucks has such a variety of store concepts. There is everything from the super tiny drive thru stores to larger, comfortable Evenings destination locations. I recently realized that there is a category of stores that are called the "Micro Drive Thru." These are very small, pre-fab construction drive-thru locations. The hallmark of a micro drive thru is that they're 450 square feet, or smaller.
Right now, there are three Starbucks locations that are considered "micro" drive thrus.
One is in Roseville, California; one is in Salt Lake City; and one is in Kent, Washington. The smallest of these three "micro drive thus" is the one in Salt Lake City, and is 386 square feet. The Kent, Washington and Roseville, California stores are strictly a drive thru, and do not offer a walk up window. My understand is that the Salt Lake City one does have a walk up window.
All the photos here are of the Kent, Washington store, opened new on May 25, 2014.
This little store is so small that it's just as cute as a button! Thought you'd enjoy the photos too.
Just to be clear, there are a few pre-fab construction drive thrus that are larger, more spacious and not considered a "micro drive thru." This store in Orange, California is an example of a larger, pre-fab construction Starbucks drive thru.
I can't imagine what it would be like to work in such a small space! But it's amazing what partners can make work. I was thinking, if Starbucks can pull off a Frappuccino truck, as it did this year in California, it can make a micro drive thru work.
Thank you to official Starbucks spokesperson Alisha Damodaran for her help with some of the facts in this article.
Related posts