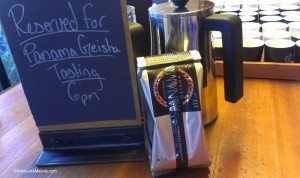 Starbucks will offer their second Panama Auromar Geisha beginning on Thursday, September 12, 2013, on StarbucksStore.com.  This coffee will not be available in stores.
(Edit on Thursday, September 12, 2013 – Here is the link for this coffee at StarbucksStore.com – Panama Geisha Auromar.)
Starbucks secured a small amount of this coffee, and so it will be sold in numbered half-pound bags: there are 972 half pound bags.  It's expected that within 48 hours, the coffee will be sold out.
Tonight, (September 9, 2013)  I attended a special coffee tasting for this new Reserve at the East Olive Way Starbucks.  Starbucks offered this same varietal earlier this year (in April) from the same farmer.
Before I go any farther, I will say that I was confused how different this second crop of Panama Auromar Geisha is from the first crop in April.  The second crop is much more complex than the first one, in my humble opinion.  It is a still a fully-washed coffee, but in speaking with the coffee masters from the Starbucks headquarters, I learned that the Geisha coffee cherries were allowed to ripen longer on the trees before harvesting, accounting for some of the flavor differences.  And then of course, coffee is a farm product, and one crop will always be a little different than the next.  This coffee is roasted to a light-medium roast, akin to the roast profile of the previous Organic Shade Grown Mexico, for those of you who remember that coffee.  Take a look at the whole beans and ground coffee:
This new Auromar Geisha has complex layers of flavors, including mango and citrus.  It also has a larger mouth feel than what I recall from the past coffee, and a hint of sweet molasses.  I picked up a huge citrus aroma when the whole bean bag was passed around, and was impressed at how there were a variety of flavors at different temperatures.
This specific crop of Auromar Geisha varietal coffee won the Best of Panama award in the washed Geisha category:  Starbucks purchased all that they could of it, that wasn't sold at auction.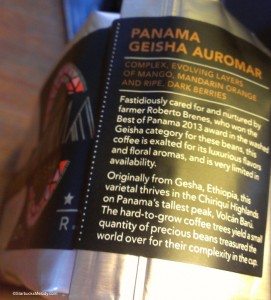 In short, you simply have to try this.  A number of the people around me at tonight's coffee event picked up some cocoa-mouthfeel, but I was hit more with the citrus, molasses, and a lingering flavor.  This coffee will retail for $50 a half pound.  It will be gone fast.  This is worth it for the coffee experience!
******
Related article: Panama Geisha available at StarbucksStore.com – April 2013.
Related posts