Christmas Blend 2013.
Melody, December 11, 2013
21
5 min

read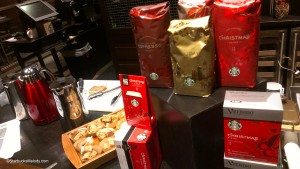 Christmas Blend 2013 is here.  I know I've written about this before, but I recently went to a wonderful coffee seminar for this coffee, and had to talk about Christmas Blend one more time.
Before I go any further, I want to mention that this year's Christmas Blend packaging is a little confusing.  All of the Christmas Blend packaging has the words,"spice & sweetness" somewhere on it.  (Or some words close to that).  The Blonde Roast Christmas Blend is in gold packaging with the word "Holiday" on it in big letters, but it still says "spice & sweetness" and is Christmas Blend.
There is also a coffee that is "Holiday Blend" which is not the same coffee beans as Christmas Blend.  If the bag of coffee says, "soft & layered" on it, then it is Holiday Blend (which should be almost entirely be found at other retailers such as grocery stores, Target, and so forth).  If the bag of coffee says, "spice & sweetness" it is Christmas Blend.
The hallmark of Christmas Blend is aged Sumatra.  Sumatra is sourced from Indonesia, and is a semi-washed coffee bean usually known for bold, rich flavors.  Aged Sumatra is a coffee bean that has been stored in burlap sacks for 3 to 5 years, and then "aged" to the perfect level of spiciness.  If you want to read more about aged Sumatra, I have an old article about it here – keep in mind I wrote that article over four years ago.  Having said that, there's still a lot of good information in that aged Sumatra article.
At the December 9th coffee tasting at the East Olive Way Starbucks, we paired all three Christmas Blend coffees with the gingerbread loaf.  The three variations on Christmas Blend are as follows:
Blonde Roast Christmas Blend
Christmas Blend (the original and traditional blend)
Espresso Roast Christmas Blend
Gingerbread loaf was a great pairing with all of these.  All three of these coffees include the same components – Latin American coffee beans with aged Sumatra coffee beans.  It's interesting even to just look at the three variations of coffee beans side by side.  One can really see the differences in roast profile by just a glance at all three.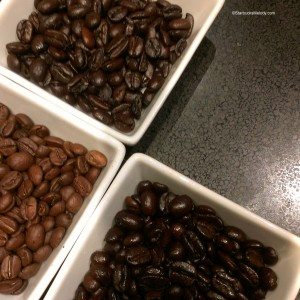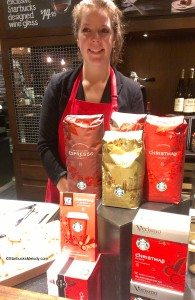 Coffee Masters Donna and Jess walked us through each Christmas Blend, starting with the original Christmas Blend.  All of the coffee was prepared with the Clover coffee brewer.  The original Christmas Blend was definitely good.  It was complex, and had some noticeable acidity giving it a little bit of a high note at the end of your coffee slurp.  When paired with the gingerbread loaf, the high note acidity was definitely mellowed out.
My favorite of the three Christmas Blend coffees is still Espresso Roast Christmas Blend, which was introduced into the Starbucks whole bean lineup in 2010.  Of course, you can always have any coffee that is an "espresso roast" as a drip coffee – that designates its roast profile, but it certainly doesn't have to be used as an espresso shot.  Donna and I agreed that this was a great coffee.  For me, the dark roast brought out more of the molasses characteristics to the coffee – it's a little bit syruppier and very sweet.  The small amount of acidity that is present in the traditional Christmas Blend gets lowered down a notch due to the darker roast profile.
The Blonde Roast Christmas Blend was really interesting and fun, though not my go-to coffee.  The Starbucks descriptors have soft spices, and warm notes, and describe complementary flavors as baked apple, allspice, and nutmeg.  It does remind me a bit of a homemade apple crip – it's sweet, high acidity (since it's so light), and this year I did feel like I got some of the apple notes from it.  Because Blonde Roast is such a light roast profile, I think that food can easily overwhelm the coffee, and so the blonde coffees are wonderful alone too.  (Well, they're all wonderful alone!).
The four steps of a coffee tasting as as follows:
Smell
Slurp
Locate
Describe
I always love a good smell picture, and snapped this photo of Donna in the midst of our coffee event: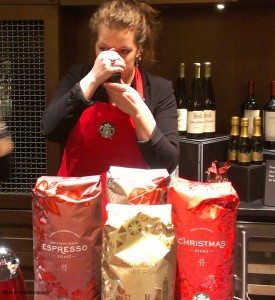 There is a big difference between the blonde and espresso roast profiles, and you can even see it in the brewed coffee itself: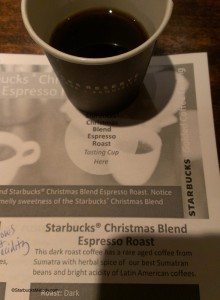 I want to share just a couple more photos from the coffee event:
Thank you Jess and Donna for a great coffee tasting.  If you're interested in attending an East Olive Way coffee education seminar, drop by on a Monday night at 6:00 pm – but be sure to call ahead.  The coffee events are about every other Monday night, and so you might want to call ahead and double check the schedule.  These events are free and open to the public.  East Olive Way Starbucks 1600 East Olive Way, Seattle, WA 98102, (206) 568 – 5185.
As just an aside, the "Holiday Blend" coffee (look for the words "soft & layered" on the bag) is its own new coffee recipe this year.  One thing I've been wanting to do is write about that as well, and I still hope to do so.  I think if I didn't work 40 hours a week, you'd get a lot more blog articles from me!  I tried the Holiday Blend as a Verismo pod, and I was pretty stunned at how good it is.  If you like reading about coffee tastings, there are many more articles in this blog's archive.
Last but not least, one of my least favorite things are the Facebook algorithms that filter your Facebook feed.  I'm constantly battling them.  If you do like this article, or other photos and articles that I've posted to this blog's Facebook page, please "like" the status updates that you like.  If you haven't liked my Facebook page, I hope you will.  I post more photos there of my day to day Starbucks visits, and share links of interest too.
Enjoy!
Related posts