Hot August Bonus Stars: MyStarbucksRewards Promotions
Melody, August 7, 2014
47
2 min

read
Starbucks employs one-to-one marketing when it comes to promotions via MyStarbucksRewards. I'm sure I've mentioned this before but this is an excellent time to mention it again. This means that those who have a registered Starbucks card receive individualized promotions. There is a downside to one-to-one marketing: It's confusing. At no point can a barista say, "our promo this weekend is a bonus star for each panani sandwich that you buy."  Rather, the best that the barista can say is, "You might be earning bonus stars for bakery goods, if you got that email for bonus stars on bakery items. Or, you might be earning bonus stars for buying sandwiches. It just all depends on which promotion email you received." Even the amount of bonus stars for each item purchased can vary. Your own promotion might vary a lot from these examples.
I got the promotion for two bonus stars when purchasing any Starbucks panini, salad, or sandwich from August 7, 2014 through August 13, 2014. I really like this one! I'm glad I got it. I like a couple of the paninis (the Sante Fe Chicken is underrated!) and will definitely take advantage of this promotion. It's an easy way to earn bonus stars:
A regular reader of this site forwarded to me her personalized promotion: one bonus star when purchasing bakery items August 7th through the 13th: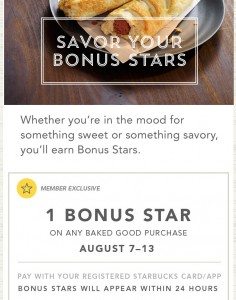 One reader got a promotion of three bonus stars for every shaken iced tea, August 7th through the 13th: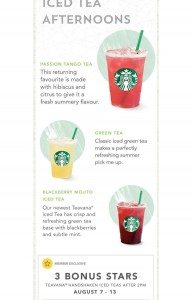 Some people may have received a promotion that involves bonus stars for buying bistro boxes at Starbucks, August 7th – August 13th.
There are a lot of bonus stars happening from August 7th – August 13th!
And yet another reader of this site emailed me that she received a promotion to earn bonus stars for buying shaken Teavana iced teas at Starbucks. During the month of August, if she buys four shaken teas, she'll earn three bonus stars. If she buys seven shaken iced teas, she'll earn ten bonus stars.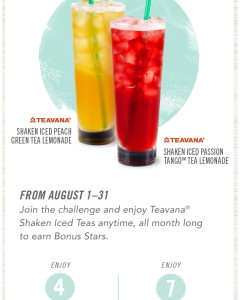 I find it sort of interesting to see the variety of promotions that people receive. It's possible that some people didn't get any at all. 🙁 But now is the time to check and see. If you use an email address for your Starbucks profile that you rarely check, you might want to check now. Also, I'm pretty sure that these promotions show up somehow in the iPhone Starbucks app.
Enjoy your August promotions! Which one did you receive?
Related posts