Previously, I wrote about the new concept store by Starbucks called "Evolution Fresh."  In my last article, I neglected to talk about the card that is available at Evolution Fresh, and so I want to shine a spotlight on that now.  In my opinion, it is just so cool that you can pay with a Starbucks card at Evolution Fresh (and of course, you're earning MyStarbucksRewards stars) or you can pay with your Evolution Fresh card at Starbucks.  The stored-value cards work back and forth seamlessly between Starbucks and Evolution Fresh.  However, there are no "rewards" at Evolution Fresh such as the syrup and milk rewards available at Starbucks.  (Evolution Fresh doesn't offer the same products and doesn't have a variety of syrups.)
I have heard very loose gossip that Evolution Fresh is considering adding such a program to their cards.
By way of reminder, Evolution Fresh is a juice bar and natural foods cafe, which opened new on March 19, 2012, and it is operated by Starbucks.
I snapped a photo of the Evolution Fresh card, available at the register.  This is also (obviously!) the very first Evolution Fresh card.  It will be interesting to see what kind of creative designs might come about in the future.  Here is the card: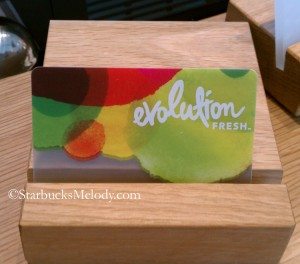 Last but not least, if you want to follow Evolution Fresh on twitter, here is their profile:  @EvolutionFresh.
I would imagine this card will be a collectible item for those who collect Starbucks cards!
Related posts