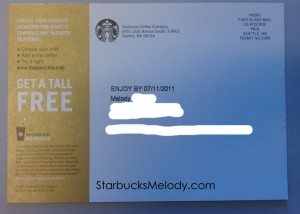 Every now and then, My Starbucks Rewards sends out surprise coupons for free things.  As is tradition on this blog, I write about every one of them.  Here are some of the previous blog posts on freebies through My Starbucks Rewards:
Did you get your free petite treat coupon?
My Starbucks Rewards free Perfect Oatmeal coupon
My Starbucks Rewards – Free Frappuccino (from May 2010)
Free Holiday Treat from My Starbucks Rewards (December 2010)
Top 10 Reasons to be a Part of My Starbucks Rewards – 15% off coupon
I had considered that maybe I would just stop writing about Starbucks perks, but I realized that some of my readers wanted to know about the coupons to make sure they're getting them!  I got this coupon probably about a week and a half ago.  It's already gone!  I used at the first sign of good weather, which wasn't until yesterday in Seattle (meaning Friday, June 3rd).  I had a tall Chai Creme Frappuccino with a splash of apple juice blended in. Delicious!  I sat drinking it with a favorite local district manger, whom I happened to run into at 7th & Pike Starbucks.
So the real question is, what did kind of However-You-Want-It Frappuccino did you get with your freebie coupon?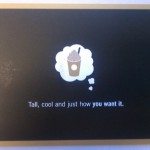 Related posts