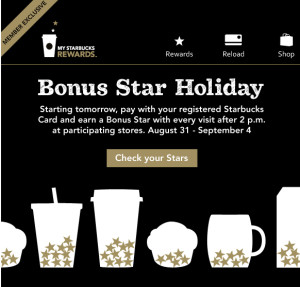 Currently, there is a promotion for "Bonus Stars" if you are using your registered Starbucks card to pay with your purchases, after 2:00 p.m.  The promotion runs now through September 4, 2013.  I have seen a ton of conversation on Twitter and Facebook already about this promo, but I thought that just in case my readers hadn't heard of this, it would be good to pass along.  Bonus stars are always a good thing! 🙂
As a reminder, to participate in My Starbucks Rewards, grab any Starbucks gift card, load money on it, register it at Starbucks.com/card, and then use it to pay for your purchases.  All your rewards and perks are associated with your profile at Starbucks.com/card not that specific individual card – this means that you can additional cards to your profile, and still receive all your benefits.  You must track your own rewards.
From what I know, this promotion is happening both in the United States and Canada.  Typically, when Starbucks does "Bonus Stars" promotions (for example, this spring there was an at-home coffee bonus stars promo) it is open to ALL My Starbucks Rewards – you do not have to be at the "Gold" level of perks to earn bonus stars.   The same is true this time too  – this current promotion is open to all My Starbucks Rewards members.
I simply wanted my readers to be aware of this opportunity to earn more stars on their purchases!  Be enrolled in My Starbucks Rewards, pay for your purchases after 2:00 p.m., and the promotion ends September 4th.
Last but not least, there is a Seahawks Starbucks Card launching soon in stores.  If you are a football fan, this might be a collectible card for you.  I assume, as always, it will be a limited production card.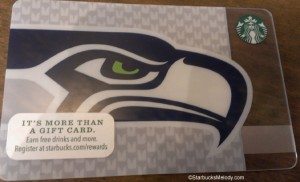 Related posts