Fall is here at Starbucks: New mugs and merchandise
Melody, September 3, 2014
1 min

read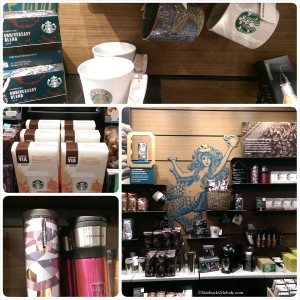 Fall has arrived in Starbucks stores everywhere. Anniversary Blend is back, and is available for the Verismo, as a whole bean coffee (in either half or whole pound bags), and is available in the K-Cup format too. There are beautiful new mugs and tumblers. I especially like the new coffee cherries-inspired mug found in a decorative box. There are a series of mugs called the "Siren Collection" all of which are beautiful. And the Pumpkin Spice Latte Via is now available everywhere. I tried the Pumpkin Spice Latte Via yesterday and I was very surprised at how good it is! That is a great option for making a Pumpkins Spice Latte at home.
I dropped by two Starbucks yesterday morning, both in Seattle's University Village shopping area. One is store 302, which is the first University Village Starbucks (and is the second store in the whole company), and the other is the new Reserve – Evenings Starbucks, sometimes called "University Village 3" Starbucks. The newer University Village 3 store has a style of merchandise wall that is coming to more and more stores, but still fairly rare to see. (The Pike and Broadway Starbucks in Seattle also has this kind of concept merchandise wall).
I took some photos and just wanted to share. Do you have a favorite new fall thing at Starbucks?
Related posts
7 Comments
Comments are closed.