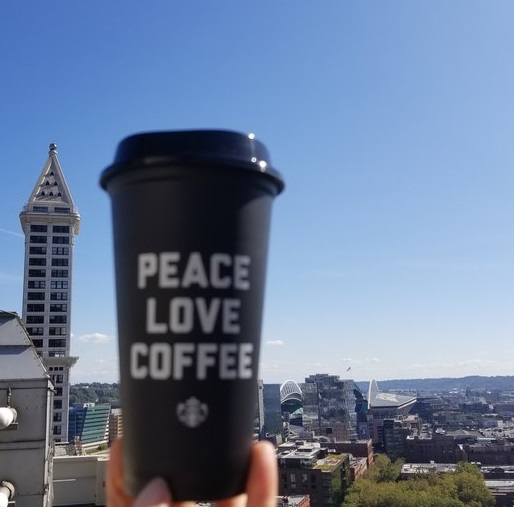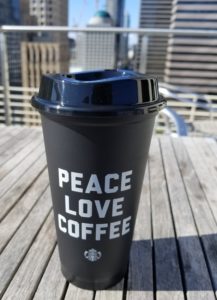 A fun new reusable, plastic personal hot cup is now at Starbucks. It's a $2.00 hot cup that is black and says Peace Love Coffee. Very cool looking! You might recall, it was about 6 years ago that Starbucks introduced this kind of personal cup, and back then they were $1 each. Because they're a fairly thin plastic, when they were introduced, Starbucks gave us a guideline of about 30 uses per cup (and then toss into the recycle bin!) though I actually think they'll endure a lot more than 30 uses. Over the years, these personal cups have been offered with a variety of designs, including in 2015 with partner-created artwork on them.
Since we're talking about a reusable cup, now would be a great time to mention how the personal cup discount works. I don't think I've really take a closeup look at since 2013.
When you bring your own cup to Starbucks and use it for your beverage, you receive a 10 cent discount on your beverage. This hasn't changed for years. Bringing in your own cup is a very earth-friendly thing to do, so please use your own cup! The personal cup discount is not offered when you are using for-here ware.
The current version of the personal cup discount information on the Starbucks customer service website clarifies even further: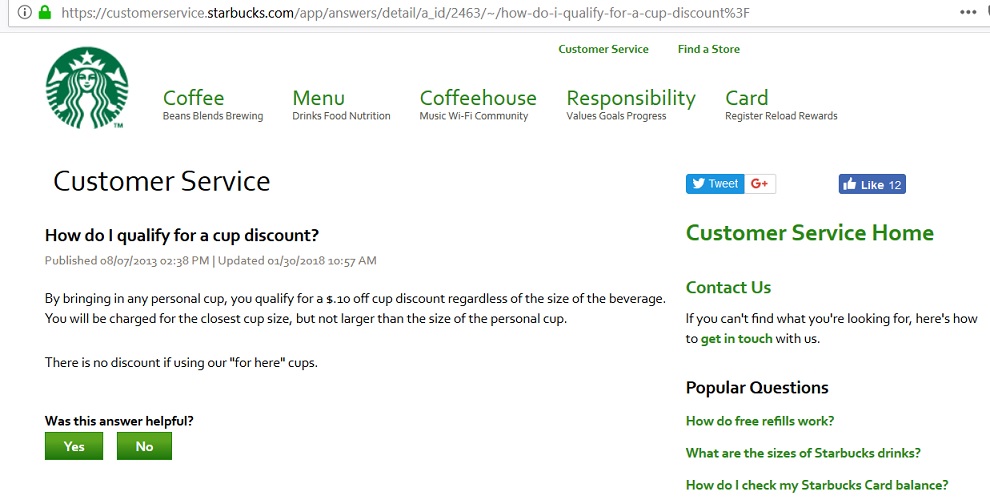 The latest version clarifies what size cup you will be charged for. This is very helpful! Over the years, Starbucks has made same 10 ounce, 14 ounce, and 18 ounce tumblers and mugs. I believe the theory behind these cups of cups and tumblers is that it is an 8, 12, or 16 ounce drink with either 2 ounces of cream or a little walking room. Nonetheless, these odd sized tumblers create some confusion at the register. I've experienced it myself! Now you know, if you have a 14 ounce tumbler, you will be charged for a tall drink. You'll never be charged for a size larger than your personal cup.
Enjoy!
Related posts