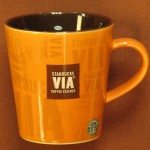 What better way to start 2011 than with a fun contest for a $5.00 gift card?  There will be 30 winners of a $5 Starbucks gift card! That is a lot!  I want to get a lot of people participating in this, and I am hoping that my readers will share this blog post either on Facebook, twitter, StumbleUpon, or on whatever your favorite social media is.
It seems like everyone has a favorite Starbucks coffee mug and often there is a good story behind it too.  The idea behind this blog post is to collect those pictures of mugs and their corresponding stories.  Here are the rules of the contest.  Please read them carefully:
Send Melody an image of your favorite Starbucks coffee mug.  This mug must be a Starbucks-branded mug.  This image must be attached to an email, and cannot be sent as a flickr upload or other hosted upload.  My email address is Melody@StarbucksMelody.com.
The size of the image cannot be smaller than 400 x 400 and must be in a jpg file format.
Here is the hard part.  Each email must include a minimum of two sentences, but not more than five sentences, explaining why this is your favorite Starbucks coffee mug.
Please include the date that you purchased the mug, or generally the date the mug was produced, if possible.  For example, if the bottom of the mug includes a year, PLEASE include that in your entry so that we can see how the styles of mugs have changed over the years. If you only remember that, 'I think I bought this mug in about 1994 or 1995' then please include that information.
I reserve the right to not use an entry for any reason. For example, if twenty people send me a photo of a Sumatra mug, and all say "this is my favorite coffee," or one person says, "I got this mug after taking a trip to Sumatra to learn about coffee and I really appreciate this unique coffee.  It's amazing the work and labor in producing Sumatra coffee"  then I'll probably use the best of the twenty Sumatra mugs.
It can be any two sentences.  You might, for example, send a city mug and say, "I got this on my vacation to Las Vegas.  I had the time of my life despite having lost tons of money gambling!"
All entrants and winners must have a postal address within the United Stated, Canada, or the U.K.
Please include in the email the address where you want your gift card mailed to.
All emails must be received before January 28, 2011 at 6:00 p.m. (Pacific Standard Time).
All entrants, winners, participants allow Melody to use their mug photo here on StarbucksMelody.com with the short two to five sentence explanation of why it is a favorite mug.
All entries must include a name and location for use in the post.  It doesn't necessarily need to be a "John Q. Smith".  For example, "Amy in Boston" works just fine.  You just have to have a distinctive name.  For example. you can't be just "Michael" or "Steve" because there are too many of those first names.  You certainly could be "Clark K. in Washington" or "LatteRose in Washington."
If you have a twitter profile, please include your twitter name in the email.  This is not absolutely required.
Both partners and customers are welcome to participate.
Please include "My Favorite Starbucks Mug Contest" in the subject line of the email.
Only one entry per person.  This means that you may submit ONE mug entry.  One email, one coffee mug, one story of two to five sentences.
First 30 entrants who fully follow the above rules will receive a $5 Starbucks Gift Card.
Assuming that I get some good participation here, this could be a lot of fun.  We will have a future blog post with at least 30 Starbucks coffee mugs images and a couple of sentences to go with each one.  Hopefully it will be 30 different mugs and a fun series of pictures with short stories.  I can imagine we could even have a picture of a mug, and a partner say, "I love this mug. I bought it the first day I was hired!"
Please follow all of the bullet point rules above.
Since we are on the subject of coffee mugs, here are some previous blog post featuring images of Starbucks coffee mugs:
Collecting City Mugs – Episode #1
Four 1995 coffee stamp inspired mugs (Sulawesi, House Blend, Costa Rica, Guatemala)
What Christmas merchandise do you want to see this year? (Blog post features a number of images of old holiday mugs)
Collecting Starbucks Mugs From Around the World – Episode #2
Summer essentials: Gazebo Blend by Starbucks (A blog post on Gazebo Blend coffee but featuring a Gazebo Blend coffee mug image.)
One last thing, the coffee mug for the anchor image in this blog article is from Japan.  It was a wonderful gift to me from @Nobrice, and was part of the Via collection of merchandise in Japan in April 2010.
Related posts