First Time Ever: Starbucks India Estates Now Available
Melody, September 28, 2014
5
2 min

read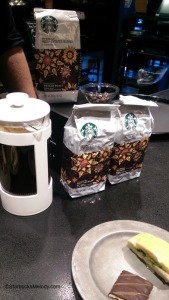 For the first time ever, you can try Starbucks India Estates Blend. Previously, the only way you could get your hands on this coffee was to travel to India to get it! This coffee – sourced entirely from coffee grown in India – is a core, year-round offering Starbucks stores in India.
Click here to find the Starbucks India Estates Blend on StarbucksStore.com.
I bought a few bags of it, and took one to Coffee Master Megan G. at the East Olive Way Starbucks and challenged her to come up with a great food pairing for India Estates Blend. She took her challenge very seriously!
She presented this coffee at a coffee education seminar on Monday, September 22, 2014. We tried it made with a French press, and Megan paired it with the Dark Chocolate Covered Grahams and the Turkey Pesto Panini.
We had a great turn out of customers and a lot of fun! This was really a treat to try the India Estates Blend with a knowledgeable coffee master! We thought the aroma was herbally sweet, with one person in the group picking up hints of coconut in the aroma.
The description for this coffee is "chocolaty and herbal," and indeed it really is. It's also squarely a medium roast profile coffee. Megan made a French press of it and we tried it with the Dark Chocolate Covered Grahams first. I thought this was the best pairing of it! The chocolatyness of the coffee really pops with the grahams and the texture of the grahams complements the coffee's chocolaty mouth-feel.
If you're looking for an excellent pairing at a Starbucks store to try the India Estates Blend with, try the grahams!
Herbal and chocolaty is an interesting combination and challenging to work with. The Turkey Pesto Panini was supposed to bring out the herbal notes, which it did. Though I thought the butteryness of the bread fought against the pesto/ herbal flavors.
One thing that I would like to do still is taste and compare this coffee with Starbucks core Sumatra. That would be a great taste and compare coffee tasting. As we worked on discovering the herbal side to this coffee, several people in the group noticed that this could have a little overlap with Sumatra. A lighter, more elegant version of Sumatra? I haven't done that coffee tasting yet, but it's on my list of things to do.
By the way, later on, I had this coffee made through the Clover and I thought it was much more herbally than chocolaty when made via the Clover.
If you're ever available, please join me at the East Olive Way Starbucks for regular coffee seminars. They're every other Monday evening, at 6:00 PM and free and open to the public.
Hope to see you there!
Related posts